EHA25 Virtual EBAH CME accreditation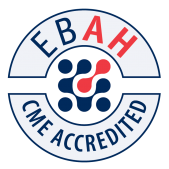 The EHA Annual Congress is accredited by the European Board for Accreditation in Hematology (EBAH) CME. EBAH CME is the best way for hematologists to master the latest developments within the specialty of hematology. Staying abreast of these scientific developments and keeping in touch with up-to-date views on clinical policy will enable you to raise your professional level, resulting in the best treatment for your patients.
Earning and collecting CME points at EHA25 Virtual
The program of the EHA25 Virtual Congress has been accredited by the European Board for Accreditation in Hematology (EBAH) for a maximum of 40 CME credit points. After you have attended a session on the virtual congress platform you will have the option to mark the session as "complete". Each participant should only mark as "complete" if s/he actually spent the time pertaining to the educational activity in order to collect credits for each session.
In order to obtain the CME credits for EHA25 Virtual Congress, we ask that you complete the CME Credit Points Form, also available at the Congress exhibition area at the EHA booth, so we can make sure we have your EBAH CME account information correctly, to award the credits directly into your online EBAH CME account.
Please note there will be two times where CME credit points will be distributed, the first credit assignment will be done in July and one again in October. You only need to fill in this form once.
On your "My History" area, you can see the sessions that you have viewed, and completed. This data will be used to distribute the CME credit points in June, and once again in October.
We hope you enjoy the sessions and collect your CME credits to stay up-to-date with your professional development!