EHA-LSHBT Hematology Update on Sickle Cell Disease
EHA-LSHBT Hematology Update on Sickle Cell Disease
EHA and the Lebanese Society of Hematology and Blood Transfusion (LSHBT) invite you to the first webinar of the Hematology Updates course.
This 2-hour workshop will focus on Sickle Cell Disease. The workshop will consists of four clinical vignettes, a clinical lecture and Q&A. You can join and submit all your questions to the faculty of the workshop in the Q&A panel discussions.
Live session date: October 27, 2022

Live session time: 17:00 – 19:00 EET (Eastern European Time)
Chairs: G Gaidano (IT), A Taher (LB)
Registration
EHA-LSHBT Hematology Updates are offered online, and you can register for the the full Hematology Updates course (8 editions) free of charge. Your registration gives you access to the live webinar and to the on-demand recording.
Target audience
The main target audience is hematologists in North Africa & Middle East, but the course is open to attend for all.
Program
Opening & Welcome

Interactive Clinical Lecture

Clinical vignette 1

Clinical vignette 2

Clinical vignette 3

Q&A Panel Discussion

Closing Remarks
Reinforce knowledge, interactive education & continue learning
The aim of the webinars is to dive into three major aspects of learning within EHA by reinforcing knowledge, offering interactive education, and enabling continued learning. Explore what EHA has to offer on SCD, start your preparation for the webinar, and expand your knowledge on the topic.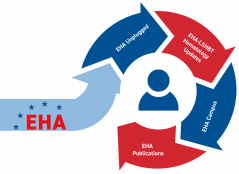 Find below an overview on the curriculum of EHA on SCD.
Learn more about the misconceptions about SCD experience, areas where treatment frequently falls short, and how to raise awareness of the disease in the EHA Unplugged Podcast: Episode 10 "What Physicians Can Learn From Patients And Carriers".
EHA has an eight-course overview covering the main aspects of SCD. The course covers pathophysiology, clinical presentation, diagnosis, complications, patient management, epidemiology, and public health impact. Access the program here.
EBAH-CME
The virtual Hematology Updates are accredited by the European Board of Accreditation in Hematology (EBAH). To collect CME points participants must attend all webinars in the 2022 – 2023 series. Through live participation you can be a part of the high degree of online interactivity with key opinion experts. Participants who join the all the live webinars of the EHA-LSHBT Virtual Hematology Series in 2022 are eligible to receive 4 CME credit points.