EHA-SWG Scientific Meeting "Developing a research agenda for transfusion in Europe"
Dates: September 15-17, 2022
Location: Prague, Czech Republic
Chairs: S Stanworth, L Larsson & H Feys
Organized in collaboration with EHA & the EHA Specialized Working Group on Transfusion.
This is a 3-day scientific meeting that focused on strengthening and prioritizing opportunities for Europe-wide research in transfusion. It will help to identify research gaps and enable the start of a dialogue between transfusion researchers (including juniors) across Europe.
Target audience
Hematologists, (junior) Researchers in transfusion
Program
This meeting will cover the following topics:
Transfusion therapy - current status

Transfusion therapy - future needs

Strategies in transfusion research

Special situations for transfusion

What makes a successful research program?

Opportunities in immune-based therapies

Stakeholders and the donor

Hospital practi

c

es

Transfusion research in Europe
The complete program can be found here.
Abstract submission
Abstract submission is an important part of EHA-SWG Scientific Meeting programs. As a participant, you have the opportunity to submit an abstract for this meeting, and (if accepted) discuss it with the international faculty and peers.
A selection of abstracts will be eligible for acceptance during the meeting, the presentation format will be in the form of oral presentations or poster presentations. Presenting authors will receive a separate invitation.
Abstract submission is closed. You can find more details on this page.
Learning objectives
After attending this EHA-SWG Scientific Meeting, delegates will be able to:
understand new directions of red cell transfusion research in terms of populations, study designs, new red cells products and matching,
understand new directions of platelet transfusion research in terms of use of alternatives,
understand new directions of transfusion research in hematological support for major bleeding including better diagnostic tests, and
address and recognize the need for research in implementation.
Venue
Occidental Praha
Na Strzi 32
14000 Prague
Czech Republic
Registration
Registration is now open - please check the registration page for more details.
Key dates
Sponsorship
There are various opportunities to support this meeting. For more information please send an email to sponsorship@ehaweb.org.
EBAH CME Accreditation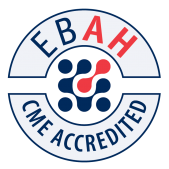 Continuing Medical Education (CME) is widely accepted to encourage individual practitioners to maintain and develop professional knowledge and skills keeping up-to-date with latest developments within the field. The meeting will be accredited by the EBAH system. Participants of this meeting are eligible to receive one Continuing Medical Education (CME) credit point for every hour of accredited activity from the EBAH system.
Learn more about the Specialized Working Group on Transfusion and join today.
Interested in extensive training on transfusion medicine?

Are you or do you know someone interested in transfusion medicine? The Autonomous University of Barcelona and Leiden University offer a master's degree in transfusion medicine and cellular and tissue therapies (in English). This joint Master's degree is credited with 60 ECTs.