EHA-SLCH Hematology Tutorial 2022

EHA is collaborating with the Sri Lanka College of Haematologists (SLCH) on a hybrid Hematology Tutorial on Hematological Disorders. Join us online and increase your knowledge on a range of topics such as MDS, CMML, myeloma and amyloidosis.
Dates: March 18-19, 2022
Location: Hybrid: virtual with a physical hub in Colombo, Sri Lanka
Chairs: A Weerawardena (LK) & G Gaidano (IT)
Goal of the meeting
During two days in March this tutorial will broaden and increase your knowledge of high risk MDS, CMML, myeloma, amyloidosis, NTDT and SCD. In addition, the tutorial will cover COVID thrombosis and VITT and HLH. This will be done through lectures, interactive self-assessment cases and clinical case presentations. Sri Lankan case presenters will be physically present in Colombo, with a small group of local delegates. International speakers will participate virtually with a platform available for virtual attendees.
Registration
Registration is closed. Registered delegates can still view the on-demand content until April 19, 2022, via the link they received.
Target audience
Consultants and post graduate trainees in hematology and other interested specialties.
Program
The following topics will be covered:
High-risk Myelodysplastic Syndrome (MDS)
Chronic Myelomonocytic Leukemia (CMML)
Myeloma
Amyloidosis
Non-transfusion dependent thalassemias (NTDT)
Sickle Cell Disease (SCD)
COVID Thrombosis and Vaccine-induced Immune Thrombocytopenia and Thrombosis (VITT)
Hemophagocytic lymphohistiocytosis (HLH)
Venue
Lavender BMICH
Colombo
EBAH CME Accreditation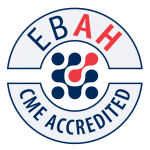 Tutorials are accredited by the European Board for Accreditation in Hematology (EBAH) CME. EBAH CME is the best way for hematologists to master the latest developments within the specialty of hematology. Staying abreast of these scientific developments and keeping in touch with the up-to-date views on clinical policy will enable you to raise your professional level, ultimately resulting in the best treatment for your patients.