Multiple Myeloma: EHA-ESMO Clinical Practice Guidelines for Diagnosis, Treatment, and Follow-up
Multiple Myeloma: EHA-ESMO Clinical Practice Guidelines for Diagnosis, Treatment, and Follow-up
These Guidelines were developed by the European Hematology Association (EHA) and European Society for Medical Oncology (ESMO). The 2 societies nominated authors to write the guidelines as well as reviewers to comment on them. These guidelines were approved by the EHA Board and the ESMO Guidelines Committee in November 2020.
This workshop was part of a series of six workshops, each focused on the published EHA Guidelines. Registration for the full workshop series was free and the on-demand recordings were made available on the platform. The Guidelines Workshops are designed to raise awareness about EHA producing and endorsing existing guidelines. In addition, the Workshops aimed to disseminate good practices and knowledge for diagnosis and treatment of hematologic diseases and illustrate the application of the guidelines in the real world setting.

During the workshop two authors of the Guidelines presented an overview of the guidelines, reviewing diagnostic criteria and discussing treatment strategies. Patient cases were presented to illustrate the application of the guidelines in the real-world setting. The workshops were interactively-designed, allowing the audience to participate in polls and submit questions, which were discussed live during the workshop between the panel members.
Live session date: March 16, 2021
Live session time: 16:30 - 18:00 CET
Chairs: Prof M Dimopoulos Prof P Sonneveld
Target audience
Hematologists, clinicians, transfusion medicine specialists.
Program
The EHA Guideline Workshop is an 1,5 hour workshop and consists of:
Opening & Introduction
P Sonneveld (The Netherlands)
Patient case presentation: A patient with sensory loss after manual therapy
A Broijl (The Netherlands)
Guidelines overview: Front-line therapies
P Sonneveld (The Netherlands)
Patient case presentation: Relapsed and/or refractory myeloma
M Gavriatopoulou (Greece)
Guidelines overview: Treatment of patients with relapsed and/or refractory myeloma
MA Dimopoulos (Greece)
Q&A and panel discussion
All speakers
Closing
MA Dimopoulos (Greece)
For the first time, two major European Medical Associations, EHA and ESMO decided to publish, common guidelines for the management of multiple myeloma. For these disease many drugs and combinations have been approved by the EMA over the last 4 years and the treatment landscape is rapidly evolving. Prof Dimopoulos and Prof Sonneveld, two of the lead authors of the guidelines discussed the front-line treatments for multiple myeloma patients but also the treatment strategies for the relapsed patients. Dr Gavriatopoulou and Dr Broijl illustrated the application of the guidelines with two patient cases. The expert panel discussed the questions posted by the audience and further elaborated on their presentations.
Click here to view the EHA Guidelines (on HemaSphere)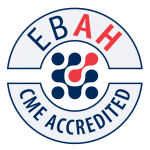 EBAH-CME
Participants of the EHA Guidelines Workshop Series received a total of 4 Continuing Medical Education (CME) points. You can no longer receive CME points by watching the recordings of the Guidelines Workshops.