EHA-AHA-GBMA Mini Hematology Tutorial
For the first time EHA is collaborating simultaneously with the Armenian Hematology Association (AHA) and Georgian Association For Blood and Bone Marrow Transplantation (GBMTA) in a virtual Mini Hematology Tutorial. Join us online and increase your knowledge of the biology, diagnostics and management of CLL, MDS and MM.
Dates: November 10-11, 2021
Location: VIRTUAL
Chairs: G Gaidano (Italy), YK Hakobyan (Armenia), T Kvatchadze (Georgia)
Goal of the meeting
On two evenings in November the mini Tutorial will broaden and increase the knowledge of biology, diagnostics and new treatment options of Chronic lymphocytic leukemia (CLL), Multiple myeloma (MM) and Myelodysplastic syndromes (MDS). In addition the mini Tutorial will discuss the role of transplantation in a new era of treatment in hematological disorders. The mini Tutorial will focus on the clinical aspects and treatment options of CLL, MM and MDS. This will be done through lectures, interactive self-assessment cases and clinical case presentations.
Target audience
This meeting is geared towards hematologists, internists, oncologists, biomedical scientists and laboratory specialists and technicians.
Program
The following topics will be covered:
Chronic lymphocytic leukemia (CLL)
Multiple myeloma (MM)
Myelodysplastic syndromes (MDS)
Transplantation
The full program for the two evenings will follow soon.
Learning objectives
After attending this meeting, the participant will be able to:
explain the biology of CLL, MDS and MM,
increase the ability to correctly classify CLL, MDS and MM,
list and describe diagnostics methods and treatment of CLL, MDS and MM,
describe and indicate role of transplant in new era of treatment of hematological disease.
EBAH CME Accreditation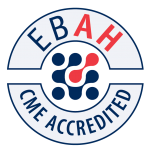 Tutorials are accredited by the European Board for Accreditation in Hematology (EBAH) CME. EBAH CME is the best way for hematologists to master the latest developments within the specialty of hematology. Staying abreast of these scientific developments and keeping in touch with the up-to-date views on clinical policy will enable you to raise your professional level, ultimately resulting in the best treatment for your patients.