EHA-Baltic Hematology Tutorial on Lymphoid Malignancies, including Waldenström's Macroglobulinemia
EHA-Baltic Hematology Tutorial on Lymphoid Malignancies, including Waldenström's Macroglobulinemia
EHA in close collaboration with the Estonian Society of Haematology, the Lithuanian Society of Hematology and the Latvian Hematology Society are organizing the first EHA-Baltic Hematology Tutorial on Lymphoid Malignancies, including Waldenström's Macroglobulinemia.


Date: October 18-19, 2018
Location: Tallinn, Estonia
Meeting chairs:
Prof J Gribben, European Hematology Association (Barts Cancer institute, London, United Kingdom)
Prof E Laane, Estonian Society of Hematology (Tartu University, Tartu, Estonia)
Prof S Lejniece, Latvian Society of Hematology (Rīgas Austrumu klīniskā universitātes slimnīca, Riga, Latvia)
Prof V Peceliunas, Lithuanian Society of Hematology (Vilnius University Hospital, Vilnius, Lithuania)
Goal of the meeting
The main goal is to provide European level expertise locally for Hematology trainees but also for experienced hematologists. Additionally the aim is to strengthen active relationships between EHA and Baltic states National Societies.
Target audience
Hematologists specialized in CLL, Myelomas & other monoclonal gammopathies, and non-Hodgkin lymphoma
Program topics
WHO 2016 classification of lymphoid malignancies
Chronic lymphocytic leukemia
Mantle cell lymphoma
Waldenström's Macroglobulinemia
T/NK cell lymphomas
CNS lymphomas
For more information about the tutorial program, click here.
Learning objectives
After attending this meeting, the participant will have learned
the new WHO 2016 classification of lymphoid malignancies,
the molecular pathogenesis and prognostic markers of lymphoid malignancies, and
the optimal treatment and management of lymphoid malignancies.
EBAH CME Accreditation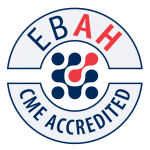 Tutorials are accredited by the European Board for Accreditation in Hematology (EBAH) CME. EBAH CME is the best way for hematologists to master the latest developments within the specialty of hematology. Staying abreast of these scientific developments and keeping in touch with the up-to-date views on clinical policy will enable you to raise your professional level, ultimately resulting in the best treatment for your patients.
For more information click here.