EHA-MSH Hematology Tutorial
EHA is joining forces with the Malaysian Society of Haematology (MSH) to organize the EHA-MSH Hematology Tutorial on Hodgkin Lymphoma.
Date: April 17-18, 2024
Format: In-Person
Location: Kuala Lumpur, Malaysia
Chairs:
Prof Haris Abdul Rahman, Vice-president, Malaysian Society of Haematology (MSH)


Registration will open soon.
Goal of the meeting
This EHA-led hematology tutorial on Hodgkin Lymphoma is an educational meeting that is part of the the pre-congress program, preceding MSH's Annual Scientific Congress. Hodgkin Lymphoma is an area in which in the outcomes in Malaysia still lag behind those seen in internationally published data. As such this meeting aims to improve the treatment, diagnosis and public awareness of the condition in Malaysia and surroundings, further encouraging early detection of the disease.
Target audience
Hematologists, Internists, Specialized Nurses, Lab specialists/technicians and Hematopathologists with a particular interest in Hodgkin Lymphoma (Biology/Clinical), Immunohematology, Laboratory diagnosis and Imaging in hematology.
Program
The EHA-MSH Hematology tutorial program is designed to help attendees better understand the international standard in the diagnosis and treatment of Hodgkin Lymphoma. It further serves to learn whether adaption is needed in the current practice in the region, as well expose local clinicians and nurses to the latest developments in hematology in general.
The program consists of updates by international speakers combined with patient-bases cases examples from the region. The knowledge gained by attendees is then tested by the international speakers as well.
Topics that will be covered are:
Basic Principles of Hodgkin Lymphoma
Histopathology and Diagnosis
Treatment of Newly Diagnosed Hodgkin Lymphoma
Managing first relapse and refractory disease with intention to cure
The roles of Novel Agents in the landscape of Hodgkin Lymphoma in 2024
Imaging in Hodgkin Lymphoma
The full program will be announced soon.
Learning objectives
After attending this tutorial, the participant will be able to
develop a deeper understanding on the treatment of Hodgkin Lymphoma, which is considered curable.
facilitate exposure of the current international standard for treatment of Hodgkin Lymphoma.
be exposed to the current diagnostic technique and imaging in assisting the existing treatment modalities to improve outcome, such as the latest diagnostic tools and use of PET imaging.
move away from conventional chemotherapy and incorporate the use of monoiclonal antibodies and targeted therapy in improving outcome.
identify the role of transplant as a treatment option in Hodgkin Lymphoma.
utilize the latest diagnostic techniques in Hodgkin Lymphoma to identify group with adverse outcome early in the diagnosis and employ a different treatment strategy.
Registration
Registration and registration options will be announced soon.
Venue
Shangri-La Kuala Lumpur
11, Sultan Ismail Street, Kuala Lumpur,
50250 Kuala Lumpur, Wilayah Persekutuan
Kuala Lumpur
EBAH CME Accreditation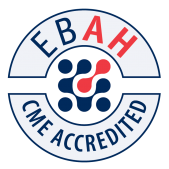 EHA Hematology Tutorials are accredited by the European Board for Accreditation in Hematology (EBAH) CME. EBAH CME is the best way for hematologists to master the latest developments within the specialty of hematology. Staying abreast of these scientific developments and keeping in touch with up-to-date views on clinical policy will enable you to raise your professional level, resulting in the best treatment for your patients.