EHA-PTHiT Mini Hematology Tutorial
EHA and the Polish Society of Hematology and Transfusion (PTHiT) are happy to present the second virtual 'mini Tutorial'. This two-day meeting aims to assess and increase your knowledge of the treatment of myeloid and lymphoid diseases.
Dates: November 15-16, 2021
Location: Virtual
Chairs: G Gaidano (Italy), I Hus (Poland) and T Robak (Poland)
Target audience
Hematologists and (hemato-)oncologists, residents in hematology and oncology, and laboratory specialists and technicians.
Program
The following topics will be covered:
Current treatment strategies in chronic myeloid leukemia
A new set of treatment options for low-risk myelodysplastic syndrome
Current treatment standards and emerging strategies in mantle cell lymphoma
New treatment strategies for multiple myeloma
EBAH CME Accreditation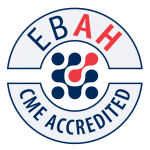 Tutorials are accredited by the European Board for Accreditation in Hematology (EBAH) CME. EBAH CME is the best way for hematologists to master the latest developments within the specialty of hematology. Staying abreast of these scientific developments and keeping in touch with the up-to-date views on clinical policy will enable you to raise your professional level, ultimately resulting in the best treatment for your patients.