Highlights of Past EHA (HOPE) Asia 2020

EHA is returning to Sri Lanka for the 2nd edition of the Highlights of Past EHA (HOPE) Asia, organized with our hosting partner: the Sri Lanka College of Haematologists (SLCH). Due to the rise of COVID-19 infections in Sri Lanka, this meeting will now be fully virtual, instead of hybrid. The meeting will feature presentations from the EHA Congress, as well as regional and local speakers.
Dates: October 16-17, 2020
The program will bring a broad range of topics from the EHA25 Virtual Congress to the hematology community in Asia. Registration is open for this exciting program bringing the EHA congress updates to you on the screen.
About the program
HOPE Asia 2020 aims to bring the key messages from various fields of hematology of the 25th Congress of EHA to Asia. As such, the meeting provides a selection of the most important education and scientific sessions of the EHA Congress, tailored to the needs of the local hematologist.
The main program topics are:
Bone marrow failures
Bone marrow transplant
Hemophilia
Immune thrombocytopenic purpura
Morphology
Myeloproliferative neoplasms
Myeloma
Thrombosis & DOACs
Thrombophilia
The full 2 day program is available here.
Target audience
This meeting is mainly geared towards (general) hematologists, clinicians, scientists or trainees, from Sri Lanka and other Asian (SAARC & ASEAN) countries.
Participants from other countries are also welcome, but dedicated HOPE Meetings are available for parties for Latin America and Europe & the Middle East - details can be found on the main meeting page here.
Registration
Registration is required to attend this meeting.
Scholarships
EHA would like to enable as many hematologists as possible to participate in this exciting program and has made a number of scholarships available for attendees from the target countries. A scholarship consists of a free registration for the virtual meeting. See the scholarships page for more information.
Partner acknowledgment
EHA would like to thank the following regional partners for their collaboration. This supports us in realizing our educational goal of bringing the key messages from various fields of hematology of the 25th Congress of EHA to Asia, which contributes to the advancement of hematology education and science in the region: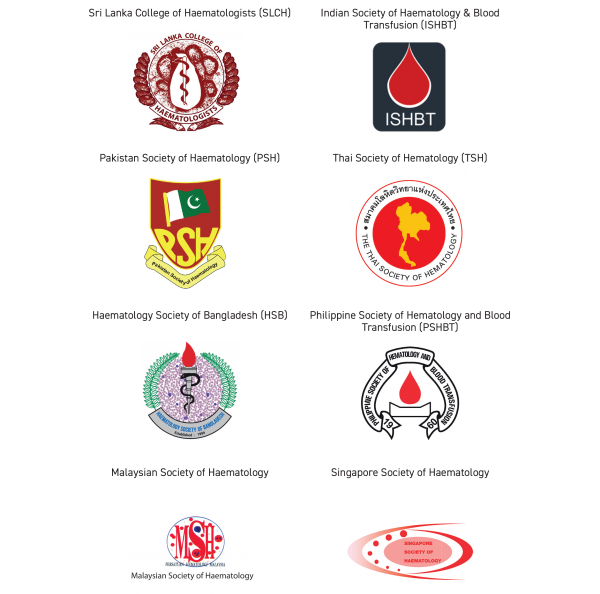 Sponsorship
Would you like to support this meeting? Please contact us through sponsorship@ehaweb.org so we can share the various opportunities with you.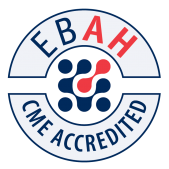 EBAH CME accreditation
This meeting is accredited by the European Board for Accreditation in Hematology (EBAH) CME. EBAH CME is the best way for hematologists to master the latest developments within the specialty of hematology. Staying abreast of these scientific developments and keeping in touch with the up-to-date views on clinical policy will enable you to raise your professional level, ultimately resulting in the best treatment for your patients.