Highlights of Past EHA (HOPE) Latin America 2020

EHA and the Argentinian Society of Hematology (SAH) are very happy to announce that the Highlights of Past EHA (HOPE) Latin America 2020 will take place on November 13, 2020 in a virtual format. The meeting will include livestreamed presentations from selected speakers of the EHA25 Virtual Congress.
Dates: November 13, 2020
Registration will open soon for this exciting program bringing the EHA Congress updates to your own screen.
About the program
HOPE Latin America 2020 aims to bring the key messages from various fields of hematology of the EHA25 Virtual Congress to Latin America. The meeting will provide a selection of the most relevant education and scientific sessions of the EHA Congress tailored to the needs of the local hematologist. The program has been composed in conjunction with our local partners.
The main program topics are:
Acute myeloid leukemia
Chronic myeloid leukemia
Acute lymphoblastic leukemia
Mantle cell lymphoma
Pediatric hematology
Thrombosis and hemostasis
Transfusion
The full day program can be found here.
Target audience
This meeting is mainly geared towards (general) hematologists, clinicians, scientists or trainees, from Argentina and other Latin American countries, specifically those who could not participate in the EHA25 Virtual Congress.
Participants from other countries are also welcome, but dedicated HOPE Meetings are in preparation for Asia and Europe & the Middle East - details can be found on the main meeting page here.
Registration
Registration is required to attend this meeting. Participants from Argentina and outside Argentina can attend the virtual meeting for free. Registration is now open.
Scholarships
EHA would like to enable as many hematologists as possible to participate in this virtual program and will make a number of scholarships available for attendees from the target countries. A scholarship will consist of a free registration for the virtual meeting. Click here for more information about the scholarships.
Sponsorship
Would you like to support this meeting? Please contact us through sponsorship@ehaweb.org so we can share the various opportunities with you.
EBAH CME accreditation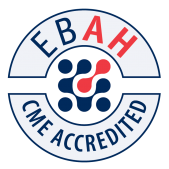 This meeting is accredited by the European Board for Accreditation in Hematology (EBAH) CME. EBAH CME is the best way for hematologists to master the latest developments within the specialty of hematology. Staying abreast of these scientific developments and keeping in touch with the up-to-date views on clinical policy will enable you to raise your professional level, ultimately resulting in the best treatment for your patients.