EHA-PTHiT Hematology Mini Tutorial
Dates: April 12-13, 2021
Location: VIRTUAL
Chairs: I Hus (Poland), T Robak (Poland) & G Gaidano (Italy)

As a prelude to the full Tutorial planned for later this year, EHA and the Polish Society of Hematology and Transfusion (PTHiT) present a virtual 'mini Tutorial'. Join us online and learn about the most recent achievements in the diagnostic procedures and treatment of the most common lymphoid and myeloid malignancies.
Goal of the meeting
On two evenings in April the mini Tutorial will review the most recent achievements in the diagnostic procedures and treatment of diffuse large B-cell lymphoma (DLBCL), chronic lymphocytic leukemia (CLL), and myeloid malignancies, such as acute myeloid leukemia (AML) and Ph-negative myeloid neoplasms (MPN). The participants will not only learn about the current approach to the management of discussed hematological malignancies during plenary lectures but also will have an opportunity to check their knowledge during practical self-evaluation sessions with clinical cases presentations.
The mini tutorial will focus on advances in biology, genetic characteristics, diagnostic approaches and therapy of lymphoid and myeloid malignancies. The participants will be updated on advances in therapy, including new monoclonal antibodies and immunoconjugates, small molecules, CAR-T cells in lymphoid malignancies, personalized treatment strategies based on detailed molecular, genetic and epigenetic characteristics of myeloid malignancies as well as novel approaches in allogeneic stem cell transplantation.
Target audience
Hematologists and (hemato-)oncologists, residents in hematology and oncology, and laboratory specialists and technicians.
Program
The following topics will be covered:
Acute myeloid leukemia (AML)
Ph-negative myeloproliferative malignancies
Chronic lymphocytic leukemia (CLL)
Diffuse large B-cell lymphoma (DLBCL)
The full program for the two evenings is available here.
Learning objectives
After attending this meeting, the participant will be able to:
enhance their knowledge on the approach to lymphoid malignancies treatment in the era of novel targeted therapies including immunotherapy strategies (monoclonal antibodies, CAR T cells) and small molecules (BCR inhibitors, Bcl-2 antagonists), as well as new drug combinations in clinical development;
describe current management of Ph-negative MPN (including new diagnostic criteria of PV, complementary clonal markers for the diagnosis of MF, therapy recommendations for INFalpha and ruxolitinib), new targeted small molecules evaluated in clinical trials;
review current targeted therapies used in patients with AML based on genetic and epigenetic profile of the leukemic cells, know how to manage patients relapsed after allogeneic stem cell transplantation;
list current indications to allogeneic stem cell transplantation in discussed neoplasm diseases;
identify the toxicities of new agents recently introduced into clinical practice in patients with DLBCL, CLL, AML and Ph-negative MPN; and
know how to personalize and sequence the treatment in the era of new targeted therapies in lymphoid and myeloid malignancies being the subject of the Tutorial.
Registration
Registration for the EHA-PTHiT Hematology Mini Tutorial is now closed. To see the fee options please see the registration page.
EBAH CME Accreditation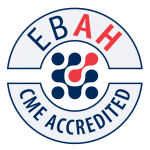 Tutorials are accredited by the European Board for Accreditation in Hematology (EBAH) CME. EBAH CME is the best way for hematologists to master the latest developments within the specialty of hematology. Staying abreast of these scientific developments and keeping in touch with the up-to-date views on clinical policy will enable you to raise your professional level, ultimately resulting in the best treatment for your patients.