Highlights of Past EHA (HOPE) EMEA 2020
Highlights of Past EHA (HOPE) EMEA 2020

EHA and the Turkish Society of Hematology (TSH) are very happy to announce that the first virtual Highlights of Past EHA (HOPE) will take place on October 9 and 10, 2020. The program will bring a broad range of topics from the EHA25 Virtual Congress to the hematology community in Türkiye, the Middle East, North Africa and the Balkan region. Registration has officially opened for this exciting virtual program bringing the EHA congress updates to your own screen.
Registration is closed
About the program
The format of the program has been completely transformed and will be comprised of update presentations in the various fields of hematology, followed by break-out sessions with experts on specific topics. The new format will focus on the interaction between the speakers and the participants by creating space for questions and discussion. In addition, there will be key note lectures deepening your knowledge on specific topics.
The main topics of the program are as follows:
Acute myeloid leukemia
Myelodysplastic syndromes
Plasma cell disorders
Myeloproliferative neoplasms
Lymphoproliferative disorders
Benign hematology
Hemoglobinopathies
CAR-T cell therapy
Click here to visit the full 1,5 day program.
Target audience
The main focus of this highlights program are (general) hematologists, clinicians, scientists or trainees, from Türkiye, the Middle East, North Africa and the Balkan countries.
Participants from other countries are also welcome, but dedicated HOPE Meetings are in preparation for Latin America and Asia, and the details can be found on the main meeting page here.
Registration
Online registration for the virtual Highlights of Past EHA (HOPE) EMEA is closed.
Or apply for a scholarship..
EHA would like to enable as many hematologists as possible to participate in this virtual program and will make a number of scholarships available for attendees from the target countries. A scholarship will consist of a free registration for the virtual meeting. See the scholarships page for more information.
Sponsorship
Are you interested to support this interesting virtual program, then please don't hesitate to contact sponsorship@ehaweb.org.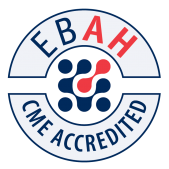 EBAH CME accreditation
This meeting is accredited by the European Board for Accreditation in Hematology (EBAH) CME. EBAH CME is the best way for hematologists to master the latest developments within the specialty of hematology. Staying abreast of these scientific developments and keeping in touch with the up-to-date views on clinical policy will enable you to raise your professional level, ultimately resulting in the best treatment for your patients.