Meet Robert Hills, our August volunteer of the month
Meet Robert Hills, our August volunteer of the month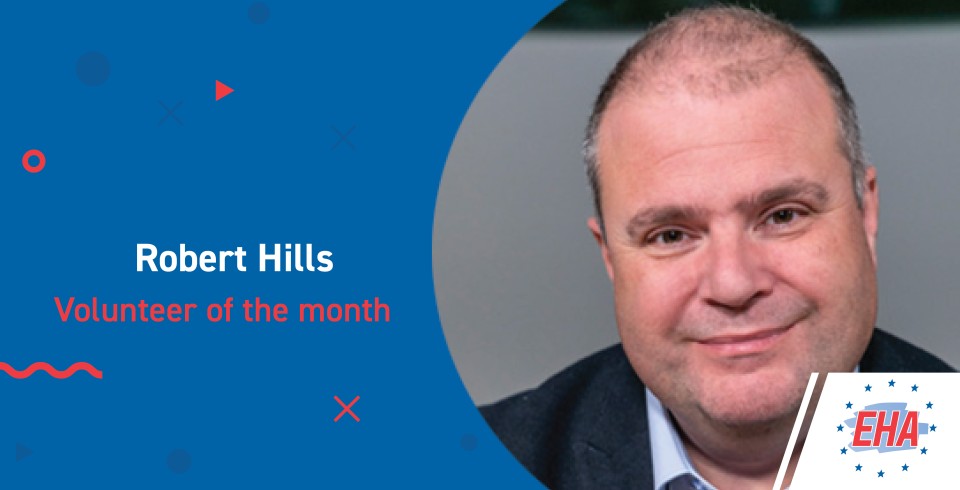 Can you tell us what you do for EHA and when you started?
I'm a relatively recent volunteer for EHA, as I only started working with them on their Clinical Research Training in Hematology (CRTH) program in 2016. I'm a medical statistician, and I've been providing statistical support and mentoring for the CRTH winners ever since the first cohort was recruited. I've also spent the last three years as one of the statisticians to the EHA-ASH Translational Research Training in Hematology (TRTH) program. It's also been a huge honor to be suggested to present the results of our research into minimal residual disease in AML at the forthcoming meeting of the Japanese Hematological Society in the Joint JSH-EHA Symposium.
I have to say it's been a lot of fun – and something which definitely keeps one young. To be able to interact with the next generation of world leading hematologists is incredible, and it is a real delight to see them supported through the various EHA committees and from the EHA Office as well.
How did you become a volunteer? Who helped/encouraged you to become one?
My involvement came about through the late, and much-missed David Grimwade. David was a great friend to EHA, and passionate about education and training. He was an incredibly committed member of the TRTH faculty and would always talk about the incredible experiences he had with it. He also patiently taught me what little I know about the science of AML. So when EHA asked me to take part in CRTH, it really was a no-brainer.
What is your motivation on volunteering for EHA?
Like David, I've always believed in education, and in passing on anything I might have learned along the way to the next generation of researchers. Hematology has a very strong history of doing incredible research – as I write this, it is sixty years to the month since the first UK MRC trial in AML opened to recruitment. It's amazing to think that the same group has persisted for so long and is still doing trials. It's also amazing to look back over the history and see how the research landscape has changed. The next generation are going to have new opportunities to provide insights into hematology, and to improve patient outcomes, and I think it's important to help in any way one can.
What does volunteering for EHA give you/do to you?
I think that volunteering for EHA gives me a lot. Obviously there is the feeling that I have done my little bit towards helping the people who will find and test the cures of the future. But also, volunteering like this can really energize my own work, and set me thinking. By being around, young, enthusiastic and talented people, I'm made to challenge some of my own assumptions and orthodoxies, so I become a better researcher and far less set in my ways.
What would you say to others who would like to volunteer for EHA as well?
I'd say to give it a go – there are so many different ways to help – and if we collaborate as a community we will be stronger, our research will be stronger, and that's got to be good for patients.
Last Updated on Thursday 14 January 2021.