Meet Stefan Fröhling, our November volunteer of the month
Meet Stefan Fröhling, our November volunteer of the month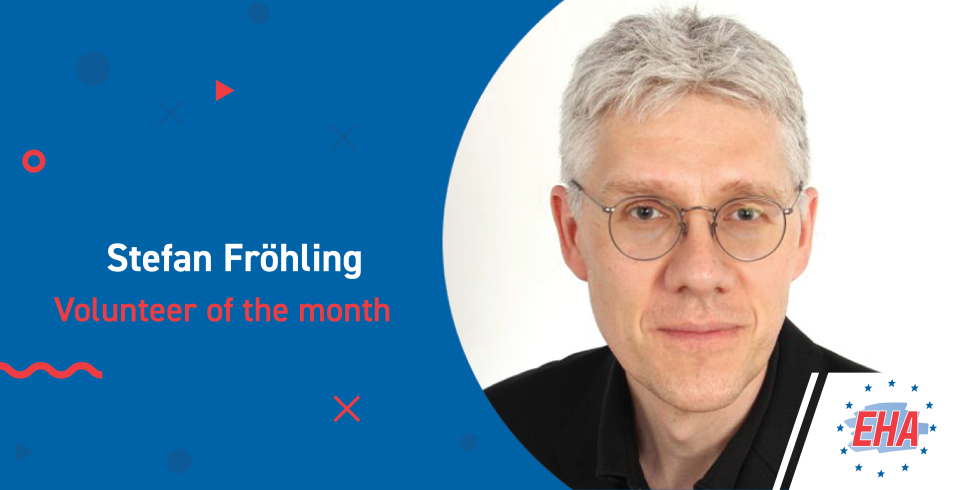 Can you tell us what you do for EHA and when you started?
I first learned about EHA in 2002 when I attended the 7th Congress of EHA in Florence. To contribute to the association's mission of promoting excellence in patient care, research, and education in hematology, I have served on a number of committees, including the Membership Committee (2012-2017), the Fundraising and Sponsor Committee (2014-2016), the Fellowship and Grants Committee (2014-2018), and the Communication Committee (2014-2018), as well on the EHA Board (2013-2017). In addition, I have been a member of the Congress of EHA Scientific Program Committee Advisory Board (2013-2015) and the Congress of EHA Scientific Program Committee (2015-2017), and I have had the privilege of organizing the Congress of EHA Molecular Hemopoiesis Workshop (2015-2018). Currently, I am a member of the EHA Scientific Working Group Unit and an Associate Editor of HemaSphere, the official journal of EHA.
How did you became a volunteer? Who helped/encouraged you to become one?
I was encouraged to get involved with EHA by both of my academic mentors, Hartmut Döhner and Gary Gilliland. Furthermore, during my postdoctoral fellowship, I became friends with Brian Huntly who received the EHA-José Carreras Foundation Young Investigator Fellowship in 2005, an honor that I received in 2008. During my interactions with Brian, I learned about the many advantages of EHA, both in terms of the financial support and – most importantly – the opportunity to become part of the European hematology community.
What is your motivation on volunteering for EHA and what does it give you/do to you?
I am extremely grateful for the support that I received from EHA as a young investigator, which has helped me build a fulfilling career in translational cancer research, and I continue to be impressed by the efforts made by EHA in promoting the career development of young scientists – especially those that are trained as physicians – to commit themselves to patient-oriented hematology research. It is also exciting to see that over the years, EHA has grown into a very dynamic and influential organization yet remains an incredibly likeable "hematology family" (especially everybody at the EHA Executive Office in The Hague) that I want to be part of for the rest of my professional life.
Last Updated on Thursday 14 January 2021.