CarrerasLeaders call two is now open
CarrerasLeaders call two is now open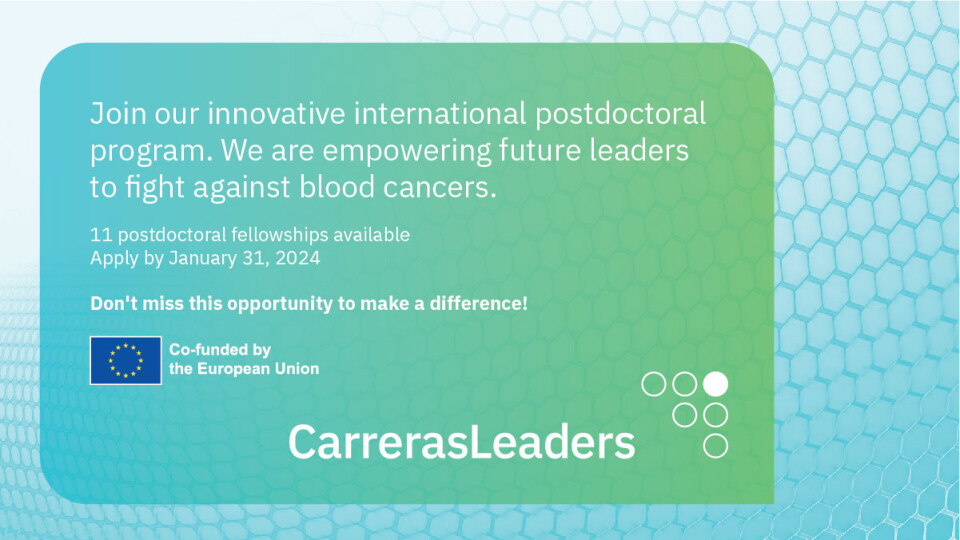 The second CarrerasLeaders call is open: apply now to the postdoctoral program to empower future leaders in the fight against blood cancers.
CancersCarrerasLeaders is a new innovative and international postdoctoral program, designed by the Josep Carreras Leukaemia Research Institute (IJC), which receives funding from the European Commission Horizon Europe Marie Sklodowska Curie Actions (MSCA) COFUND Program (GA No. 101081347), of which EHA is a part, and collaborates with the Josep Carreras International Foundation and the scientific coordination of Dr Marcus Buschbeck. The European Hematology Association (EHA) is a proud partner of CarrerasLeaders and supports the program in helping it reach excellent candidates.
The CarrerasLeaders program is excited to announce call two, after successfully selecting five fellows in the first call. The program invites exceptional postdoctoral researchers to participate in this transformative three-year journey. Successful candidates will have the opportunity to join 41 Research groups and 8 Scientific platforms at the Josep Carreras Institute, as well as engage in international secondments across academic and non-academic institutions.
This program is dedicated to advancing research and innovation in the field of blood cancers, spanning areas from fundamental disease biology to the development and implementation of groundbreaking solutions in the clinical setting. Applicants are encouraged to pursue research within the broad realm of blood cancers, fostering creativity and exploration.
The application window is from November 6, 2023 to January 31, 2024, offering 11 postdoctoral fellows a unique opportunity to enhance their careers, develop leadership skills, gain independence, and achieve professional consolidation.
The key components of the program are:
Scientific Focus: blood cancers
Collaborative projects ideally with international and intersectoral secondments (between 3-11 months)
High-level scientific training-through-research and vocational training in transferable skills
Eligible candidates should have up to seven years of postdoctoral experience and must not have resided or carried out their main activity in Spain for more than 12 months in the 3 years immediately prior to the call deadline.
The selection process for fellows will be identical to call one, involving three stages of evaluation: an administrative eligibility check, external evaluation conducted by the Catalan Government Research Evaluation Agency (AGAUR), and a comprehensive interview assessment. Successful candidates can anticipate a flexible start date of the fellowships (June 2024 onwards).
For detailed information and application guidelines, please visit the program's official website and explore the supporting documents, Guides for the Applicants, and Evaluators.
For any inquiries or assistance, please reach out to the Program Management Office via email at carrerasleaders@carrerasresearch.org, or stay updated by following CarrerasLeaders on social media:
Website: carrerasleaders.eu
Twitter: @CarrerasLeaders
Instagram: @CarrerasLeaders

An informative session tailored for potential candidates will be announced soon on the CarrerasLeaders website.
Help us spread the word and encourage exceptional candidates to join our mission in advancing research and innovation in blood cancers!
Last Updated on Monday 13 November 2023.