Challenges and opportunities in the diagnostics and management of onco-hematological patients under the microscope during tutorial in Russia
Challenges and opportunities in the diagnostics and management of onco-hematological patients under the microscope during tutorial in Russia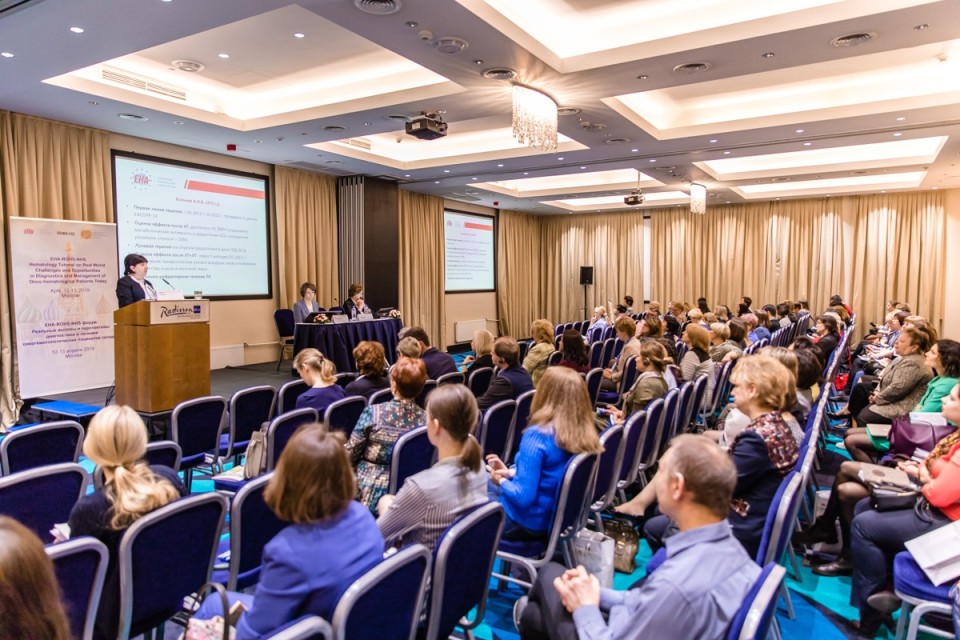 Onco-hematology was the focus of the two-day EHA Hematology Tutorial in Moscow, Russia, the third joint tutorial organized by EHA, the National Hematological Society (NHS) and the Russian-Oncohematology Society (ROHS). The first edition was held in 2013 in St Petersburg, the second in Moscow in 2016 and now in Moscow again.
Professors Pieter Sonneveld (EHA/NL), Elena Parovichnikova (NHS) and Irina Poddubnaya (ROHS) chaired the tutorial. While Prof Sonneveld couldn't attend, he provided a recorded welcome message.
The tutorial was attended by 228 delegates from mainly Russia (206 delegates), but also had participants from Canada, Estonia, Georgia, Germany, Greece, Kazakhstan, Lithuania, Slovakia, Thailand, Ukraine and United Kingdom.
This experience will be extremely useful in my practice. I think the audience received a lot of useful information too.
V Ptushkin (faculty)
This joint tutorial provided hematologists and oncologists from Russia and surrounding countries with the opportunity to learn from international experts and present their own cases.
The faculty was made up of:
- Alvaro Urbano-Ispizua (ES)
- Vadim Ptushkin (RU)
- Robin Foà (IT)
- Elena Stadnik (RU)
- Umberto Vitolo (IT)
- Gaya Tumyan (RU)
- Elena Dimina (RU
- Franck Morschhauser (FR)
- Lali Babicheva (RU)
- Larisa Mendeleeva (RU)
- Pieter Sonneveld (NL) recorded
- Maxim Solovev (RU)
- Maiia Firsova (RU)
- Niels van de Donk (NL) recorded
- Sonja Zweegman (NL) recorded
- Elena Parovichnikova (RU)
- Anastasia Abramova (RU)
- Kseniia Zarubina (RU)
- Mikhail Drokov (RU)
I was delighted to be in Moscow for a very interesting meeting, the audience was very active, asking a lot of questions well taken and I appreciated a lot to have the opportunity to discuss with many colleagues sharing my and their experience. The clinical cases presented were a good trigger for the discussion. I was favorably impressed by the easy interaction between the faculty and the attendees.
U Vitolo (Faculty)
They led six sessions divided into the following sessions:
Session 1: Immunohematology
Session 2: Chronic lymphocytic leukemia and related disorders
Session 3: Hodgkin lymphoma
Session 4: Non-Hodgkin lymphoma
Session 5: Myeloma and other monoclonal gammopathies
Session 6: Acute leukemias
Session 5 on myelomas was to be led by Prof Sonneveld, but since he couldn't attend, his lecture took the form of a recording with cases presented, also as recordings, by Niels van de Donk and Sonja Zweegman. The clinical cases - presented 'live' - were prepared by Prof Mendeleeva and presented by Dr Solovev and Dr Firsova. Prof Parovichnikova prepared the clinical cases for the session on Acute Leukemias, which were presented by two of her doctors. One self-assessment case was also presented by Dr Drokov, who studies under Prof Parovichnikova.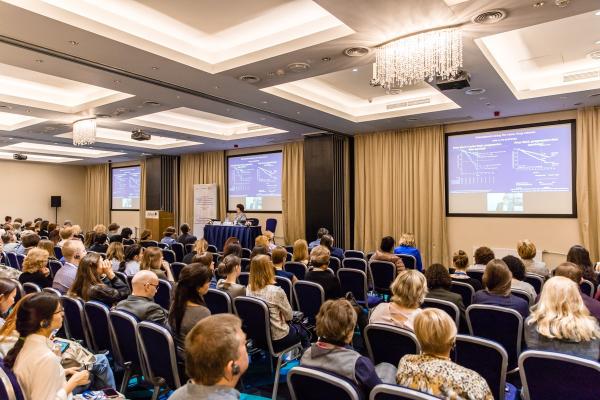 All clinical cases were presented 'live' with simultaneous translation during the meeting so that speakers from Russia could present in Russian and questions could also be asked in Russian or English. For the clinical cases, the slides were also shown in both Russian and English, to help the audience as much as possible.
You keep us optimistic and inspiring, because any intercountry communication brings us closer and makes us more experienced in our difficult and interesting field.
E Parovichnikova (chair)
Interaction was high with each international speaker, connecting with the Russian presenters of the clinical cases and creating interesting learning moments, especially for the younger audience. The audience added to the energy by asking questions about presentations and difficult cases they are currently .
Following this successful 3rd collaboration, we are looking forward to the next!
Last Updated on Wednesday 26 June 2019.