EHA-AHA Hematology Tutorial On Lymphoid Malignancies Attracts International Audience
EHA-AHA Hematology Tutorial On Lymphoid Malignancies Attracts International Audience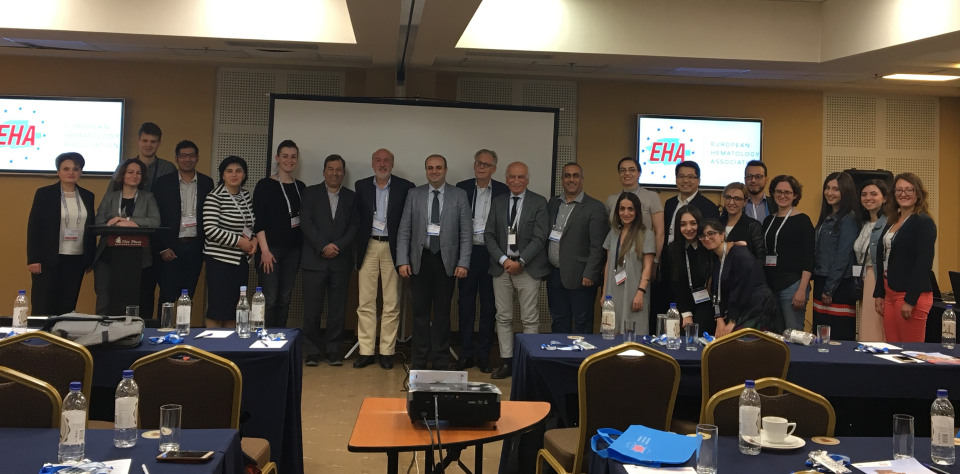 EHA-AHA Hematology Tutorial on Lymphoid Malignancies

October 18-20, 2019 | Yerevan, Armenia
Meeting chairs:
Prof G Gaidano (European Hematology Association)
Prof Y Hakobyan (Armenian Hematology Association)
Prof S Danielyan (Haematology center after Prof. R.H. Yeolyan, Yerevan)
The 3rd joint Hematology Tutorial with the Armenian Hematology Association was held in October 2019, focusing this time on Lymphoid Malignancies. The meeting covered both biological and clinical aspects, giving participants the knowledge to better identify symptoms, make proper classifications and follow appropriate treatment options for each stage and age group.
The meeting was chaired by Prof Y Hakobyan and Dr K Meliksetyan from Armenia and Professor G Gaidano from Italy, who took turns chairing a session.
There were seven EHA speakers:
Prof Ming-Qing Du (United Kingdom)
Prof Umberto Vitolo (Italy)
Prof Norbert Schmitz (Germany)
Prof Christian Gisselbrecht (France)
Prof Gianluca Gaidano (Italy)
Prof Hervé Avet Loiseau (France)
Prof Jean Luc Harousseau (France)
The clinical cases were presented by young Armenian doctors – many of them young residents for whom it was a great opportunity to present at an international educational meeting.
Thank you very much for your positive response. It was a great honour to be the part of that wonderful event.
L Harutyunyan (Armenian faculty)
The tutorial attracted over 50 attendees, from 9 different countries. The majority was from Armenia, but there were also attendees from neighboring countries such as Georgia, Iran and Russia, as well as attendees from Portugal, Slovakia, Switzerland, and even Canada and Qatar!
Using voting boxes attendees provided us with an overall rating directly after the meeting: 96% of attendees rated the overall meet as good or excellent! There was a very good level of activity and the meeting was definitely relevant to participants' work.
For participants the tutorial was a unique chance to have direct answer-question sessions with well-known specialists in this area of hematology. The extensive discussions after each presentation, a combination of points from the experts and questions from the participants, formed an educationally valuable meeting. The simultaneous translation (English-Russian) was particularly helpful for understanding the presentations and allowed everyone to ask questions freely in a language they are comfortable in.
I would like to thank you very much for this wonderful tutorial. The organization was wonderful, the topics were interesting and very well presented. Especially the case reports were very exciting and I would like to thank my Armenian colleagues for them.
Participant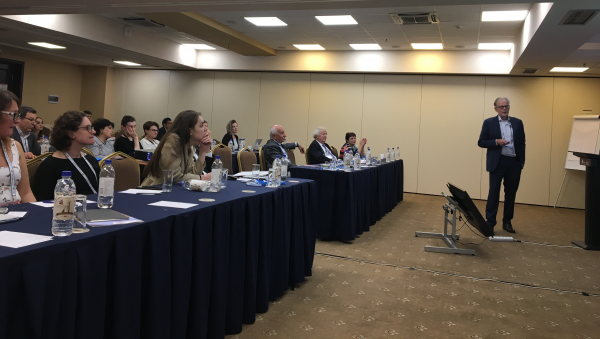 It was remarked that especially the clinical case in session 2 (on indolent lymphomas) was interesting, as it was presented from a pediatric angle. The case presented was rare and therefore very interesting for both experts and participants!
Thank you for the very interesting meeting in Armenia. I had the opportunity to meet some young attendees and they look like very glad of the event. There was a good discussion and interaction.
U Vitolo (faculty)
Travel grants offered by EHA this year to participants from neighboring countries. The travel grants recipients were supported in their travel and accommodation for this meeting. 10 grants were awarded, of which 7 were able to attend from Georgia, Iran and Russia.
EHA would like to thank the organizing partner, the Armenian Hematology Association, the sponsors, the faculty and attendees for making this meeting a success.
Last Updated on Thursday 14 November 2019.