EHA-AHA hematology tutorial on Biology and Management of Myeloid Malignancies
EHA-AHA hematology tutorial on Biology and Management of Myeloid Malignancies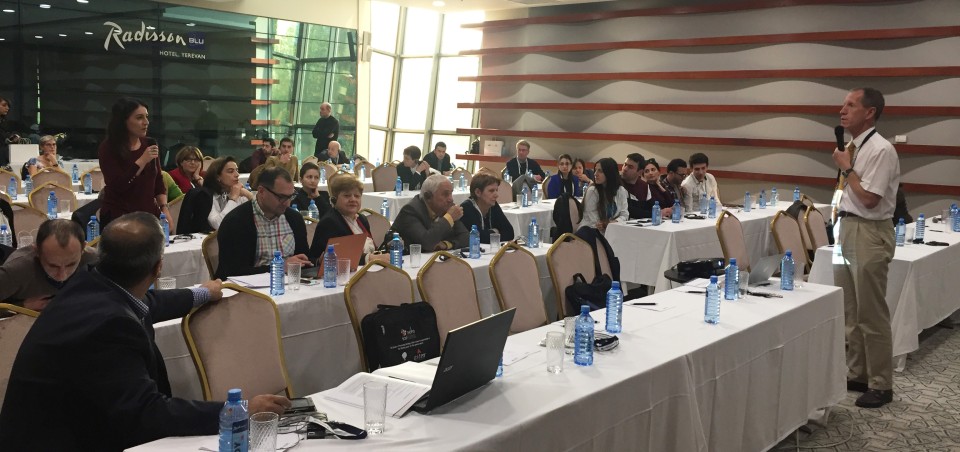 In 2016, a new hematology center opened in Yerevan, which offers new services, enabling professionals working there to apply theoretical knowledge and advanced approaches in everyday practice. Therefore, the second Tutorial on Biology and Management of Myeloid Malignancies organized by the European Hematology Association and Armenian Hematology Association took place at a very important time for hematology in Armenia.
The second EHA-AHA hematology tutorial was held in Yerevan on October 20-21, 2017, following a successful first edition in 2015. The two collaborating associations were represented by Prof S Daghbashyan of the Armenian Hematology Association, and Prof JJ Kiladjian and Prof P Fenaux on behalf of the European Hematology Association. The goal of the tutorial was to present new approaches to biology, diagnosis and management of blood malignancies and current developments in the field. This was done through the presentation of lectures, clinical cases and self-assessment cases.
The educational program covered the following topics:
Chronic myeloid leukemia
Philadelphia-negative myeloproliferative neoplasms
Myelodysplastic syndromes
Hematopoietic stem cell transplantation for myeloproliferative neoplasms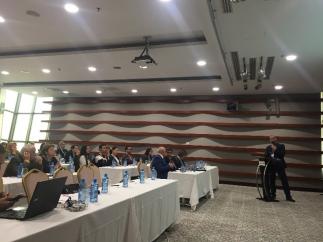 Armenian hematologists, oncologists and lab specialists/technicians were joined by an international group of attendees from Iran, Russia and Norway. Simultaneous translation from English to Russian was offered for all lectures and case presentations.
The majority of attendees are active in clinical practice/patient care or laboratory work, with an interest in general hematology, myeloid malignancies and laboratory diagnosis. Their main objectives were to meet experts, attend lectures and get updates on these topics.

Professor Santini, a member of the faculty from Italy, found the tutorial "extremely engaging and stimulating".
Overall delegate feedback of the meeting was positive, as can be seen from the comments in the survey, such as "the tutorial was interesting and educational" and "if it is possible to organize it more often". The overall meeting scored a 9,5 out of 10, with 100% of the survey respondents recommending the meeting to a colleague or friend and attend the next edition.
EHA would like to thank the Armenian Hematology Association, chairs, the faculty, sponsors and the attendees for their invaluable contribution to this excellent meeting.
Last Updated on Wednesday 21 February 2018.