Lighting the Flame: Sparking Interest in Hematology

Are you a medical student, intern, or resident interested in
choosing
hematology
as your specialty
?
EHA offers mentorship and guidance to get familiar with hematology as clinician and/or researcher. The program aims to provide you with a clearer idea of what hematology entails from a practical point of view and get a head-start in the field.
We do this by:
Providing information on clinical training and research in hematology in European countries
Supporting mentoring from EHA hematologists and researchers
Facilitating contacts with national societies
Offering an online campus when you can find a variety of workshops on hematology.
Proposing a wide range of live online trainings in hematology.
Planning real-time, in-person learning retreats with the top authorities in the area
Who should join?
The program is aimed at medical students, interns, or residents who have not yet decided on their field of specialty, but who may be interested in working as clinical hematologists or researchers (basic or translational research).
If in the middle of the program the participant discovers that hematology is not for him/her, it is absolutely fine.
Overview of the program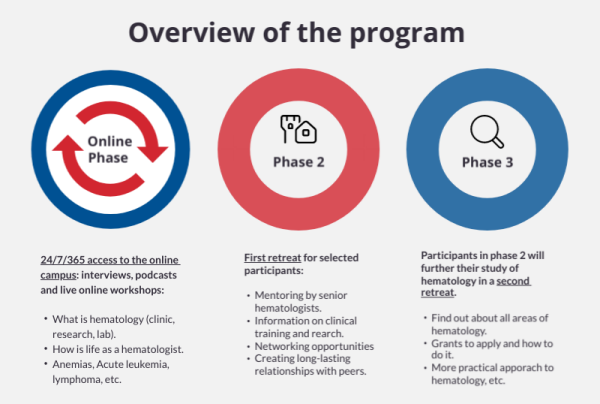 Phase 1: An online campus offering you basic educational tools about hematology, interviews with clinicians and researchers giving insights into their personal experiences, and courses in hematology. During the months of March and June 2023, six engaging, useful online workshops on anemia, immunotherapy, Pediatric hematology, Acute leukemia (research & clinical approach) and hemoglobinopathies (Thalassemia) were conducted. The recordings can be found on campus.
We will post here the next workshops schedule to next season (October 23 to May 24) soon. To join the online trainings you will have the Zoom link in the Lighting the Flame campus.
Phase 2: A ''real life'' dialogue with mentors in the form of a retreat, where you will be able to network, get to know hematology and have a live time experience. The selection of the participants is done during the first semester of the year.
In July 2023, we had our first retreat in Romania. It was a wonderful event where participants learnt about anemia, lymphoma, and myeloma (among other topics), as well as about how to interact with patients and caregivers or how to take care of oneself as a doctor. The experience provides insight into these hematological subjects from both a clinical and research perspective.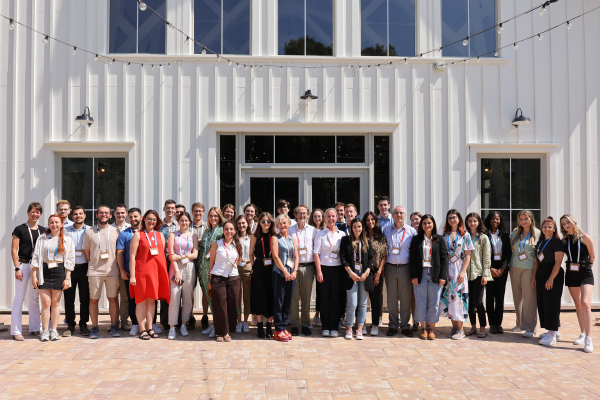 Phase 3: An in-depth, mentoring follow-up retreat with educational meetings and activities on various areas of study in hematology. The participants in phase 2 attend to phase 3.
What is the participation cost?
The first phase of the 'Lighting the Flame' program is available to everyone free of charge. The two following phases are also free of charge, but available only to a selected number of participants matching a number of specific criteria which will be announced in advance.
Collaboration
Would you like to take a more active role in fostering the next generation of professionals in hematology? Are you:
A (hematology) professor or mentor who would like to tell students or junior residents

about this opportunity? You can refer them to the 'Lighting the Flame' program. The online platform will be freely available to all. We welcome any suggestions you might have on content
An EHA member (researcher and/or clinician) who would like to share their experience? Stay tuned for the survey we will soon send out
Representing a national hematology society and would like to collaborate on this exciting program? We will soon contact all National Societies to exchange about this new program.
Please contact us at education@ehaweb.org.
Follow EHA on your favorite social media platforms to stay tuned on Lighting the Flame program and EHA updates.
Created by EHA and supported by an unrestricted educational grant from AstraZeneca