HemaSphere, the Official Journal of the European Hematology Association, Receives Its First Impact Factor
HemaSphere, the Official Journal of the European Hematology Association, Receives Its First Impact Factor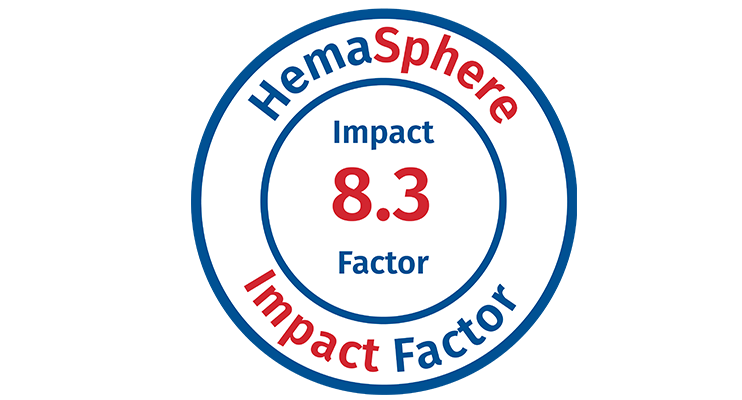 The Hague, June 2022 - HemaSphere, the official peer-reviewed journal of the European Hematology Association (EHA), has received its first Journal Impact Factor™. The preliminary 2021 Journal Impact Factor for HemaSphere is 8.3, placing the journal in the top 15 (first quartile) of all hematology journals in the Journal Citation Report (JCR). Journal Impact Factors, released annually in June by Clarivate Analytics, calculate the frequency of journal article citations over a period of time, thus helping to indicate the impact of a journal to its related field.
HemaSphere published its first issue in December 2017. Over the past five years, HemaSphere has continued to expand, ensuring highly relevant and cutting-edge basic, translational, and clinical hematology research publications are accessible to everyone in the hematology community. The receipt of HemaSphere's first Journal Impact Factor is a significant milestone that reflects the journal's quality, trajectory, and impact criteria.
Elizabeth Macintyre, MD, PhD (EHA President) comments:
"It is an absolute pleasure to see HemaSphere's first impact factor of 8.3. This is a true testament to the quality and wide ranging value of the HemaSphere content, and clearly establishes HemaSphere as the up-and-coming hematology resource in Europe and beyond."
Jan Cools, PhD (HemaSphere Editor in Chief) comments:
"I feel very privileged to have been able to shape this new hematology journal with EHA and the editorial team, based on the core values of excellent open access science. Extremely happy with this result and looking forward to future developments!"
The positive Journal Impact Factor of 8.3 signifies the caliber of the research published at HemaSphere. While the receipt of an impact factor is an important new achievement for the journal, HemaSphere remains deeply committed to rigorous peer-review, continued quality, and accessible open access publications.
About HemaSphere
HemaSphere is an open access journal powered by the European Hematology Association (EHA), and published by Wolters Kluwer Health. HemaSphere publishes results of high-impact basic, translational, and clinical hematology research. HemaSphere is the premier hematology information resource, furthering its reach with the journal's HemaTopics section, which provides insightful discussions on all aspects related to hematology, including reports of new therapies, discussions on European policy, and other related hematology news. HemaSphere has a 2021 impact factor of 8.3, is indexed in PubMed Central (PMC), Scopus, and in Clarivate Analytics' Science Citation Index Expanded (SCIE) – Hematology and CC/Clinical Medicine – Hematology sections. HemaSphere is dedicated to supporting hematology patient care, research, and education worldwide.
Contact:
Jessica Mastrodomenico, Scientific Publications Editorial Manager
Email: hemasphere@ehaweb.org
Last Updated on Wednesday 29 June 2022.