EHA-SWG Scientific Meeting on New Molecular Insights and Innovative Management Approaches for Acute Lymphoblastic Leukemia
EHA-SWG Scientific Meeting on New Molecular Insights and Innovative Management Approaches for Acute Lymphoblastic Leukemia
Dates: April 12-14, 2018
Location: Barcelona, Spain
Chair: N Gökbuget
Co-chairs: R Bassan, H Dombret, A Fielding, R Foà, D Hoelzer, JM Ribera
EHA and the EHA Scientific Working Group on Acute Lymphoblastic Leukemia are organizing their second EHA-SWG Scientific Meeting on Acute Lymphoblastic Leukemia. Below you can find key information and links to important details regarding the program, deadlines and a more details regarding the wide array of sponsor opportunities available for pharmaceutical companies.
Online registration for the EHA-SWG Scientific Meeting has closed
Considerable progress has been made in the management of ALL in the past decade and a number of exciting new compounds are under development. Furthermore, new biologic subgroups and their respective diagnostic strategies have been described. The activities of European ALL study groups greatly contributed to this success. These rapid developments are a challenge for patient treatment and clinical science.
The EHA-SWG Scientific Meeting on ALL aims to bring clinicians and young scientists together with leading international experts to facilitate exchange and expand the networks of national study groups to a European level. Participants shall be involved by submitting abstracts for poster and short oral presentations in the main sessions.
In workshops and "Meet the Expert" sessions, there will be in-depth discussions covering major controversial issues in current ALL management. In addition, several sessions will bridge the gap between pediatric and adult ALL management. Finally, updates on cutting-edge clinical science and new perspectives through knowledge exchange with colleagues will open new international collaborations.
Target audience
Hematologists, oncologists, pediatricians, lab specialists/technicians and patient advocates.
Program
The scientific program will cover the following topics:
Molecular basis of ALL
Personalised medicine in ALL
Minimal Residual Disease / Methods and application
Current standards pediatric / adult ALL
Therapy of Ph+ ALL
Immunotherapy of ALL
Older Patients with ALL
Challenges in practical management
For a complete overview of the scientific program, click here.
Abstract submission
A number of presentation slots are available in the meeting program. Presentations will be selected from abstracts submitted before January 31, 2018; 23:59 CET.
Abstract submission has closed. Abstract authors have been informed about the allocation of their abstract. For more information about the abstract allocation, please click
here
.
Learning objectives
After attending the meeting, participants will be able to:
Give an overview on current strategies for management of de novo ALL.
Explain results and management of immunotherapy.
Discuss innovative strategies for diagnosis and individualised therapies.
Inform about the recent activities of European ALL study group.
Venue
The meeting will take place in the Novotel Barcelona City;
Avinguda Diagonal 201
08018 Barcelona, Spain
Key dates
Registration
Online registration has closed.
For more information about registration, please click here.
Sponsor acknowledgement
This meeting is supported by:
Premium level partner


Major level partner & Satellite Symposium organizer

Major level partner
Meeting supporter
EBAH CME Accreditation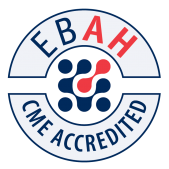 Continuing Medical Education (CME) is widely accepted as a means to encourage individual practitioners to maintain and develop professional knowledge and skills keeping up-to-date with latest developments within the field. The meeting will be accredited by the EBAH system. Participants of this meeting are eligible to receive one Continuing Medical Education (CME) credit point for every hour of accredited activity from the EBAH system.