EHA-AHA Tutorial on Biology and Management of Myeloid Malignancies
In collaboration with the Armenian Hematology Association.
Dates: October 20-21, 2017
Location: Yerevan, Armenia
Chairs: S Daghbashyan, JJ Kiladjian & P Fenaux
Language: English (with simultaneous translation to Russian)
Online registration is closed. For more information about registration, please contact events@ehaweb.org.
Download the flyer here.
Информацию о конференции на русском языке можно посмотреть здесь.
Goal of the meeting
The aim of this tutorial is to teach and update the participants on biology, diagnostic and treatment options of chronic myeloid malignancies.
Learning objectives
Participants of the EHA Hematology Tutorial will be able to gain insight in:
new WHO 2016 classification of myeloid malignancies
new prognostic classifications, including the latest knowledge about the role of mutations affecting epigenetics and splicing in MDS and MPNs phenotype and evolution
the place of generic drugs and treatment discontinuation in CML
the role of allogeneic transplantation in these diseases
the optimal management of blastic transformation
Program
The following topics will be covered:
Chronic myeloid leukemia
Philadelphia-negative myeloproliferative neoplasms
Myelodysplastic syndromes
HSCT for MPN
For a complete overview of the program, please click here.
Target audience
Hematologists (clinicians and biologists), oncologists, laboratory specialists (pathologists, cytogenetics, molecular biology) and nurses.
Venue
The meeting will take place in the Radisson Blu Hotel Yerevan:
2/2 Azatutyan Ave.
Yerevan, Armenia
www.radissonblu.com/en/hotel-yerevan
If you have questions regarding the hotel room rates, or if you wish to make a hotle reservation, please contact the hotel manager Hasmik Petrosyan at hasmik.petrosyan@radissonblu.com.
Registration
Online registration for the EHA-AHA Tutorial has closed.
Please find below a complete overview of the various registration types.
*Only members who have paid their membership fee will be eligible for a discount on the registration fee. Check your EHA or AHA Membership by sending an e-mail to membership@ehaweb.org.
**Residents and students who are 30 years old or younger are eligible for the "Registration Fee Resident/Student Fee".
Cancellation of registration
In the event of cancellation, written notification must be sent by email to events@ehaweb.org. The following refund conditions apply:

In case the cancellation is received by EHA 30 days or more prior to the beginning of the meeting, your registration fee will be reimbursed in full (minus bank charges). If the cancellation is received by EHA between 1 and 30 days prior to the beginning of the meeting, 50% of the registration fee will be reimbursed (minus bank charges). Cancellations notified during the meeting will not be reimbursed.
EBAH CME accreditation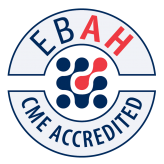 Tutorials are accredited by the European Board for Accreditation in Hematology (EBAH) CME. EBAH CME is the best way for hematologists to master the latest developments within the specialty of hematology. Staying abreast of these scientific developments and keeping in touch with up-to-date views on clinical policy will enable you to raise your professional level, ultimately resulting in the best treatment for your patients.