EHA-PTHiT Hematology Tutorial on Myeloid and Lymphoid Leukemias
Dates: September 21-22, 2018

Location: Warsaw, Poland
Chairs: T Robak, G Gaidano, I Hus


Following successful previous editions, EHA is coordinating the third two-day tutorial in close collaboration with the Polish Society of Hematology and Transfusion Medicine on "Myeloid and Lymphoid Leukemias".
Goal of the meeting
This two-day meeting focuses on the advances in biology, genetic characteristics, diagnostic approaches and therapy of leukemias.
Target audience
Hematologists and oncologists, residents in hematology and oncology, laboratory specialists (cytogenetics, molecular biology).
Program
The following topics will be covered:
Chronic myeloid leukemia
Acute myeloid leukemia
Acute promyelocytic leukemia
Rare myeloid leukemias
Secondary leukemias
Acute lymphoblastic leukemia
Chronic lymphocytic leukemia
Rare lymphoid leukemias
Check out the program overview here.
Learning objectives
After attending this meeting, the participant will be able to:
Know current management of chronic phase CML (including sequential use of imatinib and newer-generation TKIs and evolving strategies like TKI discontinuation), management of acceleration and blast transformation of CML.
Review current targeted therapies used in patients with acute leukemias based on genetic and epigenetic profile of the leukemic cells, know how to manage patients relapsed after allogeneic stem cell transplantation
Enhance their knowledge on the approach to lymphoid leukemias treatment in the era of novel targeted therapies including immunotherapy strategies (monoclonal antibodies, CAR T cells) and small molecules (BCR inhibitors, Bcl-2 antagonists, BRAF inhibiton).
Know current indications to allogeneic stem cell transplantation in patients with leukemias.
Be updated on the challenges and current paradigms in the management of elderly patients with leukemias.
Venue
The meeting will take place at the Novotel Warszawa Centrum Hotel:
Marszałkowska 94
Warsaw, Poland
Scientific and education program coordinators
European Hematology Association (EHA) & Polish Society of Hematology and Transfusion Medicine (PTHiT)

Organizer:
ELEVEN AGENCY
Contact Person: Beata Osuch
e-mail: beata.osuch@11a.com.pl
www.11a.com.pl
Sponsor acknowledgement
This meeting is supported by:
Sponsor
Partner
Media partner
EBAH CME Accreditation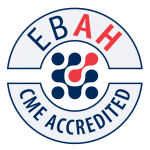 Tutorials are accredited by the European Board for Accreditation in Hematology (EBAH) CME. EBAH CME is the best way for hematologists to master the latest developments within the specialty of hematology. Staying abreast of these scientific developments and keeping in touch with the up-to-date views on clinical policy will enable you to raise your professional level, ultimately resulting in the best treatment for your patients.