EHA-SWG Scientific Meeting "Patient-centered Geriatric Hematology"
EHA & the EHA Scientific Working Group on Hematology and Aging are happy to announce their recent collaboration in organizing a virtual meeting program providing delegates with the latest insights in the field of geriatric hematology, presented by leading hematologists. The innovative format includes discussions with patient advocates and pharmaceutical companies as well as a joint session with The Lancet Haematology and The Lancet Healthy Longevity.
Dates: October 6-7, 2021
Location: VIRTUAL
Chair: R Cordoba
Co-chair: V Goede
The meeting will span 2 days: The first day will be centered on translational research, focusing on how to go from basic research to clinical application in geriatric hematology. The second day will focus on patient-centered needs of older adults with hematologic diseases.
Target audience
Hematologists, Geriatricians, Nurses, Basic researchers, Patient advocates
Program
This meeting will cover the following topics:
Biology of geriatric hematology
The future in geriatric hematology
The treatment of older patients
Approaches to different hematologic diseases
The complete program can be found here.
Learning objectives
After attending this EHA-SWG Scientific Meeting, delegates will be able to:
recognize older adults with hematological diseases needs to individualize therapy,
discover age-related changes affecting hematologic diseases,
focus in patient-reported benefits and outcome in older adults with hematologic diseases, and
identify specific features and outcome of older adults with hematological malignancies
Key dates
Registration
Registration for this meeting is now closed.
Sponsorship
There are various opportunities to support this meeting. For more information please send an email to sponsorship@ehaweb.org or check the sponsorship page.
This meeting is supported by:
Meeting Partner

EBAH CME Accreditation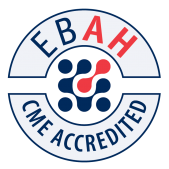 Continuing Medical Education (CME) is widely accepted to encourage individual practitioners to maintain and develop professional knowledge and skills keeping up-to-date with latest developments within the field. The meeting will be accredited by the EBAH system. Participants of this meeting are eligible to receive one Continuing Medical Education (CME) credit point for every hour of accredited activity from the EBAH system.