EHA-SAH Hematology Tutorial on Lymphoid Malignancies and Plasma Cell Dyscrasias
Dates: September 14-15, 2018

Location: Buenos Aires, Argentina
Chairs: D Fantl, R Foà
Co-chair: G Kusminsky
Following successful previous editions, EHA is organizing the second two-day tutorial in close collaboration with the Sociedad Argentina de Hematología (SAH) on "Lymphoid Malignancies and Plasma Cell Dyscrasias".
Goal of the meeting
This two-day meeting focuses on increasing the knowledge of participants on how to provide the best possible care for myeloma and lymphoma patients, through lectures, interactive self-assessment cases and real patient case-based presentations.
Target audience
Junior hematologists with 2-10 years of clinical experience, hematopathologists and fellows in their final years of training and post graduate residents in hematology.
Program
The following topics will be covered:
Diagnosis and prognostic factors in multiple myeloma and plasma cell dyscrasias
Treatment of multiple myeloma in different clinical scenarios
Hodgkin lymphoma: Focus on treatment and role of new treatment strategies
Indolent lymphoma
Aggressive lymphoma
T-cell Lymphoma
For a complete overview of the program, please click here.
Learning objectives
After attending this meeting, the participant will be able to:
Review the new WHO 2016 classification of lymphoid malignancies.
Understand the biology of indolent and aggressive lymphomas.
Adequately treat lymphoma patients according to international guidelines as well as being familiar with recent advances in targeted therapies.
Recognize the diagnostic criteria for myeloma, review the prognostic indicators in myeloma and review the best patient-adapted treatment options.
Registration
It is only possible to register for the tutorial by email.
If you are from Argentina, you can send an email to sah@sah.org.ar. The SAH will provide you with further details on how to proceed with the registration, and information about the applicable fees and policies.
If you are from outside Argentina, you can contact EHA at events@ehaweb.org. The registration fees for international participants are €205 for EHA members and €280 euro for Non-members. Please note that the registration fees are non-refundable and can only be paid over the telephone by credit card.
Registration for the tutorial includes the following:
Access to the lectures, case presentations and participation to the self-assessment sessions
Meeting materials
Coffee/tea breaks and lunches on September 14 and 15
Venue
SAH office
Julián Álvarez 146,
Buenos Aires, Argentina
EBAH CME Accreditation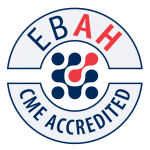 Tutorials are accredited by the European Board for Accreditation in Hematology (EBAH) CME. EBAH CME is the best way for hematologists to master the latest developments within the specialty of hematology. Staying abreast of these scientific developments and keeping in touch with the up-to-date views on clinical policy will enable you to raise your professional level, ultimately resulting in the best treatment for your patients.