EHA-Baltic Hematology Tutorial on Bleeding Disorders & Thrombosis

Dates: August 28-30, 2020
Location: Riga, Latvia
Chairs: S Eichinger (EHA) & S Lejniece (LASH)
After a successful first edition, EHA is once again collaborating with the Latvian Society of Hematology (LASH), the Estonian Society of Hematology (EHS) and the Lithuanian Society of Hematology (LISH) in the organization of the second EHA-Baltic Hematology Tutorial. The focus of the coming tutorial will be Bleeding Disorders & Thrombosis.
The online registration for this hematology Tutorial is now open. Register here.
Goal of the meeting
This three-day meeting aims to improve the knowledge on congenital and acquired bleeding disorders. Through the lectures, clinical and self-assessment cases the participants acquire knowledge on diagnostic methods such as genetic tests and thrombo-elastography. By the end of the meeting delegates will understand and gained skills to identify diseases such as hemophilia, Von Willebrand disease, ITP, thrombophilia, platelet function disorders, and chronic DIC.
In addition, the meeting will further strengthen the relationships between EHA and the Baltic national hematology societies, and intends to enhance collaboration and engagement amongst hematologists and their peers from the Baltic region and other European countries.
Target audience
Hematologists, internal medicine specialists, oncologist and pediatricians with an interest in or focusing on congenital and acquired bleeding disorders, platelets and thrombocytopenia, as well as thrombosis and vascular biology.
Program
The program will cover the following topics:
Hemophilia treatment update
Von Willebrand disease: diagnostics and treatment
Immune thrombocytopenia purpura (ITP)
Thrombophilia and genetic testing
Thrombo-elastography
Oral anticoagulants
Platelet function disorders
Chronic disseminated intravascular coagulation (DIC)
For the full program, please see this page.
Learning objectives
After attending this tutorial, the participant will be able to:
explain the new treatment drugs for hemophilia, Von Willebrand disease, ITP, and chronic DIC,
classify the genetic mutations of congenital thrombophilia,
classify platelet function disorders,
identify indications for vitamin K antagonist and DOAC use in case of hematological and oncological diseases, and
describe thrombo-elastography as a diagnostic tool.
Registration
The online registration for this hematology Tutorial is now open. Register here.
Venue
Radisson Blu Latvija Conference & Spa Hotel
Elizabetes iela 55, Centra rajons,
Rīga, Latvia 1010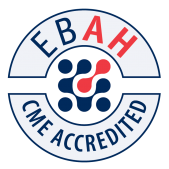 EBAH CME accreditation
Tutorials are accredited by the European Board for Accreditation in Hematology (EBAH) CME. EBAH CME is the best way for hematologists to master the latest developments within the specialty of hematology. Staying abreast of these scientific developments and keeping in touch with the up-to-date views on clinical policy will enable you to raise your professional level, ultimately resulting in the best treatment for your patients.