EHA-ISHBT Hematology Tutorial on Hematological Disorders
Dates: February 28-29, 2020
Location: Chandigarh, India
Chairs: N Varma, P Malhotra, J Gribben
Organized by: European Hematology Association (EHA) & Indian Society of Hematology and Blood Transfusion (ISHBT)
EHA will join ISHBT for a fourth time to organize the EHA-ISHBT Hematology Tutorial, this time in Chandigargh, India.
Tutorials have a characteristic format consisting of didactic lectures, case discussions, followed by self-assessment exercises. The main aim is to provide up-to-date information about various malignant and benign hematology topics, in an interactive manner.
Online registration open Register now!
Target audience
Hematologist, hematopathologists, oncologists, internists and pediatricians.
Program
The program will cover the following topics:
Chronic lymphocytic leukemia (CLL)
Ph-negative myeloproliferative neoplasms
Acute myeloid leukemia (AML)
Hematology practice in high-volume resource-constrained settings
Inherited hemolytic / dyserythropoietic anemias (including thalassemia)
Bone marrow failure
Myeloma
Indolent lymphoproliferative disorders (marginal zone lymphoma, lymphoplasmacytic lymphoma, hairy cell leukemia)
The full program can be found here.
Learning objectives
After attending this Tutorial, you will be able to:
indicate and describe diagnostic procedures required to correctly identify the disease, its stage, prognosis, etc. as currently recommended by the experts,
choose the optimal available treatment options for the index patient, and
describe the most efficient and safe way to use novel drugs and explain how to manage their adverse events in routine practice.
Abstract submission
Abstract submission is an important part of the EHA-ISHBT Hematology Tutorial. As a participant, you will have the opportunity to submit an abstract for this meeting, and (if accepted) have the possibility to discuss it as a poster presentation with the international faculty and your peers.
The abstract submission deadline is on January 15, 2020 and the allocation notification will be sent on February 1, 2020.
For questions regarding the abstract submission, please contact the congress secretariat at eric.ishbt.eha2020@gmail.com.
Venue
The meeting will be held in the Hotel Hyatt Regency:
178, Industrial Area Phase I
Chandigarh, 160002, India
Registration
The online registration for this hematology Tutorial has opened.
For more information, and to register, click here.
EBAH CME Accreditation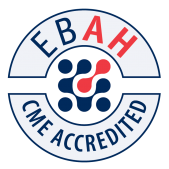 Tutorials are accredited by the European Board for Accreditation in Hematology (EBAH) CME. EBAH CME is the best way for hematologists to master the latest developments within the specialty of hematology. Staying abreast of these scientific developments and keeping in touch with the up-to-date views on clinical policy will enable you to raise your professional level, ultimately resulting in the best treatment for your patients.