EHA-KCS Hematology Tutorial on Lymphoma and Multiple Myeloma

Dates: March 14-16, 2019
Location: Almaty, Kazakhstan
Chairs: G Gaidano, D Kaidarova
Co-chairs: S Gabbasova, B Afanasyev

This meeting will be held in English and offer a simultaneous translation to Russian.
EHA is organizing the first three-day tutorial in collaboration with the Kazakhstan Cancer Society (KCS) on "Lymphoma and Multiple Myeloma".
Goal of the meeting
This three-day meeting aims to improve the knowledge of hematologists and oncologists, to share our experience and to present clinical cases.
Target audience
Hematologist, oncologists, pediatricians.
Registration
The online registration for this hematology Tutorial is closed.
Program
The program will cover the following topics:
High grade lymphomas
Pediatric B cell lymphomas, treatment of relapse
Low grade lymphomas
Hodgkin lymphomas
Multiple myeloma
T-cell neoplasms
Transplantation in lymphomas
Immunocompromised lymphoma
The full program is available here.
Learning objectives
After attending this tutorial, the participant will be able to
improve diagnosis and treatment of B cell lymphomas in adults and children,
introduce the recommendation of the treatment of T cell lymphomas,
educate dermatologists for the early detection of the cutaneus lyphomas and
improve the diagnosis and treatment of plasma cell myeloma.
Venue
The meeting will take place at the Hotel Intercontinental Almaty:
Zheltoksan St 181
Almaty 050013
Kazakhstan
EBAH CME Accreditation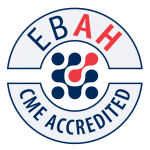 Tutorials are accredited by the European Board for Accreditation in Hematology (EBAH) CME. EBAH CME is the best way for hematologists to master the latest developments within the specialty of hematology. Staying abreast of these scientific developments and keeping in touch with the up-to-date views on clinical policy will enable you to raise your professional level, ultimately resulting in the best treatment for your patients.
Related articles on HemaSphere
Insights on multiple myeloma treatment strategies Read more >
Treatment and survival of patients with primary effusion lymphoma in The Netherlands: A population-based analysis, 2002–2015 Read more >