EHA-RHS-ROHS Hematology Tutorial on Real World Challenges and Opportunities in Diagnostics and Management of Onco-hematological Patients Today
EHA-RHS-ROHS Hematology Tutorial on Real World Challenges and Opportunities in Diagnostics and Management of Onco-hematological Patients Today
Dates: April 12-13, 2019
Location: Moscow, Russia
Chairs: P Sonneveld, I Poddubnaya, E Parovichnikova
Goal of the meeting
This 1,5 day meeting focuses on the most vital practical issues in oncohematology to teach the participants the appropriate and effective ways to use all the variety of diagnostic and treatment options, including novel ones, for the individual patient.
Target audience
Junior and experienced physicians, oncologists, oncohematologists, hematologists, pathologists (in certain sessions), specialists in laboratory diagnostics and imaging methods.
Program
The program will cover the following topics:
Acute leukemias
Chronic lymphocytic leukemia and related disorders
Hodgkin lymphoma
Immunohematology
Myeloma and other monoclonal gammopathies
Novel toxicities of novel therapies, management and prevention
Non-Hodgkin lymphoma
The full meeting program can be found here.
Learning objectives
After attending this tutorial, the participant will be able to
indicate and describe diagnostic procedures needed to identify the disease, its stage, prognosis, etc. in most precise and contemporary way and to use all diagnostic procedures that might be important for treatment decision making,
choose between all available treatment options the optimal one for the defined patient, and
describe the most efficient and safe way to use novel drugs and explain how to manage their adverse events in routine practice.
Registration
Online registration for this hematology tutorial has officially closed.
Please note that onsite registration is still possible (limited capacity only).
For more information, click here.
Venue
The meeting will take place at the Radisson Blu Belorusskaya Hotel:
No 26, 3rd Str. of Yamskogo Polya
125040 Moscow, Russia
Tel: + 7 (495) 6604900
Email: info.moscow.belorusskaya@radissonblu.com
EBAH CME Accreditation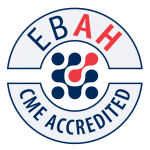 Tutorials are accredited by the European Board for Accreditation in Hematology (EBAH) CME. EBAH CME is the best way for hematologists to master the latest developments within the specialty of hematology. Staying abreast of these scientific developments and keeping in touch with the up-to-date views on clinical policy will enable you to raise your professional level, ultimately resulting in the best treatment for your patients.