EHA-SLCH Hematology Tutorial on Myeloid Malignancies and MDS
Dates: February 8-9, 2019

Location: Colombo, Sri Lanka
Chairs: G Ossenkoppele, V Gunawardena, HW Goonasekera
After a successful first edition in 2017, EHA is organizing the second two-day tutorial in close collaboration with the Sri Lanka College of Haematologists (SLCH) on "Myeloid malignancies and MDS".
Goal of the meeting
This two day meeting focuses on the further improvement of knowledge and learning novel approaches of myeloid malignancies and myelodysplastic syndromes.
Target audience
Consultants and post graduate trainees in hematology and other interested specialties.
Program
The program will cover the following topics:
Myelodysplastic syndromes (MDS)
Chronic myeloid leukemia (CML)
Myeloproliferative neoplasms (MPN)
Acute myeloid leukemia (AML)
Acute promyelocytic leukemia (APL)
BMTx in acute myeloid leukemia (AML)
VTE in hematological malignancy
Hypereosinophilic syndrome (HES) / Chronic eosinophilic leukemia (CEL)
For a complete overview of the program, please click here.
Learning objectives
After attending this tutorial, the participant will be able to
diagnose myeloid malignancies and MDS,
effectively manage these conditions, and
deal with complications.
Registration
Registration for this hematology tutorial has officially opened.
Click here for more information or to register.
Venue
The meeting will take place at the Cinnamon Lakeside Colombo:
117, Sir Chittampalam A. Gardiner Mawatha
Colombo 02, Sri Lanka
Tel: +94-11-2161161
EBAH CME Accreditation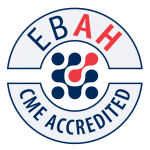 Tutorials are accredited by the European Board for Accreditation in Hematology (EBAH) CME. EBAH CME is the best way for hematologists to master the latest developments within the specialty of hematology. Staying abreast of these scientific developments and keeping in touch with the up-to-date views on clinical policy will enable you to raise your professional level, ultimately resulting in the best treatment for your patients.