Immunoglobulin shortages in the spotlight: EMA, SUPPLY and the SoHO Regulation
Immunoglobulin shortages in the spotlight: EMA, SUPPLY and the SoHO Regulation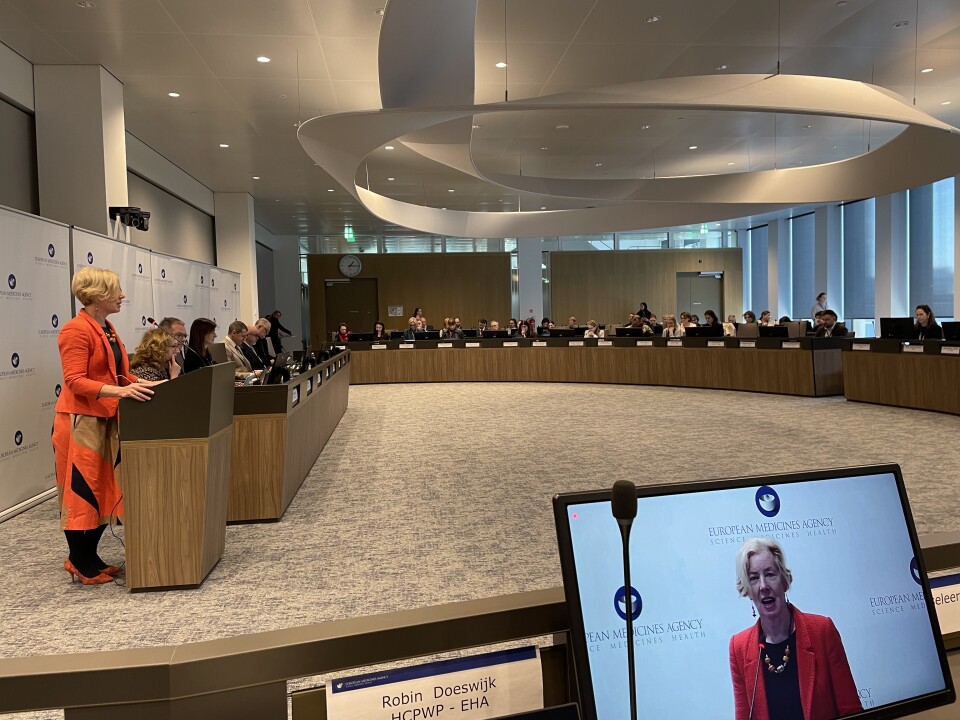 EMA executive director Emer Cooke welcoming participants including EHA at the Shortages Workshop, March 1
Shortages of immunoglobulins and the need to increase and sustain plasma supplies have moved to the center of the EU policy and regulatory stage. EHA is monitoring developments closely and contributing on multiple fronts.
On March 1, a session on immunoglobulins supply, part of a two-day EMA multistakeholder workshop on Shortages, drew a full room at European Medicines Agency premises in Amsterdam. Immunoglobulin (IG) shortages have been reported to EMA with increasing frequency. In response the agency has run two surveys on the availability of IG, showing that only 4 out of 19 countries were not affected by a market disruption in 2022, and set up a dedicated group within the Shortages Single Point of Contact (SPOC) Working Party.
The availability of plasma and particularly immunoglobulins is also the focus of the SUPPLY consortium. EHA leads Work Package 6 which, with broad stakeholder input including from patients, will develop recommendations on the appropriate use of IG and the prioritization of IG use in times of crisis. At the EMA gathering, the work of SUPPLY was presented by Daphne Thijssen-Timmer (Sanquin) and Fabio Candura (Istituto Superiore di Sanità) who emphasized the importance of increasing plasma collection by not-for-profit blood establishments in the face of increasing demand. Prof. Ole Weis Bjerrum, EHA's representative at the EMA Health Care Professionals Working Party, expressed support for this view:
"I am convinced that the most robust way to mitigate shortages of PMDP, e.g. plasma as a drug and isolated contents like Immunoglobulin, is by increasing availability. We see that a structured effort is already made to improve collaboration and communication, especially after COVID, but demand will continue to grow. Some indications cannot be treated by other drugs, like the acquired or inherent immunodeficiencies, with hypogammaglobulinemia. Immunoglobulin is used as substitution and for immunomodulation. This effect is seen in hematology, neurology and other specialties."

"IGs have a key role in addressing immunodeficiencies. It may never be possible to replace them with synthetic drugs with the same safety and efficacy. Clinical-regulatory interaction is crucial to address the challenges to clinical demand and use."
At the workshop Stefaan van der Spiegel of the European Commission underlined the importance of aligning technical guidelines for plasma collection as well as oversight (traceability, pharmaceutical/bio-vigilance, inspections and authorizations). Whilst blood systems and health policy remain the competency of Member States, the proposed EU Substances of Human Origin (SoHO) Regulation will improve coherence and coordination, both between national authorities and at the EU level. Given the growing supply/demand disbalance for PDMPs, "action will be needed across the chain from donor to patient, with centralised support". In Dr. Van der Spiegel's view, professional and patient associations have an important role to play in optimizing use and promoting good practice.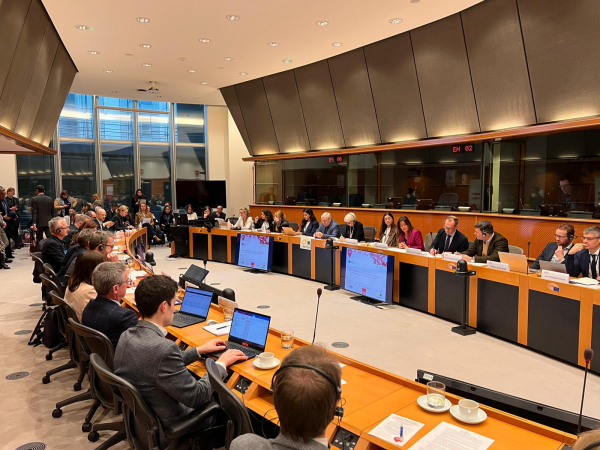 EHA took part in a meeting on the EU SoHO legislation at the European Parliament, organized by the European Blood Alliance, January 26 (Published with the permission of MEP Nathalie Colin-Oesterlé)
EHA welcomes the European Commission's proposed SoHO Regulation, particularly its emphasis on strengthening patient and donor safety, improved coordination and oversight including quality standards and guidelines (set by expert bodies), risk-based authorization and evidence-based benefit assessment of SoHOs, and access to plasma. EHA calls on EU and national authorities to see to it that:
Involvement of experts/professionals and interaction with medical societies including EHA via the proposed expert group is timely, structural and substantial;
The EU SoHO Platform is set up in a way that serves the needs of professionals when it comes to data sharing and use as well as the interests of patients and donors, in addition to serving the needs of regulators, companies and institutions;
Measures to strengthen sustainable plasma supply:

Involve healthcare professionals and patients, including in discussions on donor compensation;
Include explicit encouragement of action by Member States to improve security of supply and agree on proactive, EU-level planning to reduce dependency on third countries (in addition to mandating better monitoring and notification of shortages);
Are guided by the forthcoming recommendations of the SUPPLY consortium on plasma collection and the clinical application and prioritized use of immunoglobulins;

References in the legislation to "SoHOs prepared or used in new ways" are clarified to make clear that 'new ways' must imply 'meaningful innovation'.
For inquiries about EHA's work on the EU SoHO and Pharmaceutical legislation or the SUPPLY project, please contact: europeanaffairs@ehaweb.org
Last Updated on Monday 20 March 2023.