EHA Research Conference 2024
Dates: March 18-21, 2024
Location: Borovets, Bulgaria
Chairs: Anna Kabanova, Martina Muckenthaler, Andreas Trumpp, Simon Haas, Jean-Emmanuel Sarry, Achille Iolascon, Britta Will and Brian Huntly
The early registration fee is currently available. See here for details.
EHA is proud to announce the second edition of the EHA Research Conference, titled "Molecular vulnerabilities and metabolism in hematological disorders". This small, intimate and research topic-focused meeting greatly complements the much larger, wide-ranging and more clinically/translationally oriented EHA Annual Congress that takes place in June.
The meeting will be organized over 3,5 days, with significant time set aside for discussion, breakouts, networking and social activities. The aim of the 2024 meeting is to present, synthesize and discuss molecular vulnerabilities in normal and malignant hematopoiesis, as well as the role of metabolism in hematologic disorders.
Target audience
Are you a basic or translational researcher in hematology with an interest in molecular vulnerabilities, metabolic dependencies and metal metabolism in normal and malignant hematopoiesis? Submit an abstract and seize the opportunity to present your research and discuss your results with colleagues from all around the world!
Program
The program with confirmed speakers is now available. See the program page for details.
The topics that will be covered are:
Metabolic dependencies in malignant hematopoiesis
Metabolism in erythropoiesis and megakaryocytopoiesis
Emerging technologies in hematology
Metal metabolism in malignant and non-malignant hematology
Functional screenings of molecular vulnerabilities
Emerging molecular vulnerabilities in malignant hematopoiesis
Each session combines presentations from invited experts and oral abstracts presentations based on the highest-scoring submissions. A selection of best posters will also be presented orally, as well as two dedicated poster presentation sessions.
Learning goals
What will EHA ReCon do for you?
Attending this research topic-focused conference will allow you to meet and interact with like-minded peers and experts, and be able to:
Explore metabolic dependencies in malignant hematopoiesis and metabolism in erythropoiesis and megakaryocytopoiesis.
Learn about emerging technologies in hematology, functional screenings of molecular vulnerabilities, and emerging molecular vulnerabilities in malignant hematopoiesis.
Discover metal metabolism in malignant and non-malignant hematology.
Enjoy a blended session format with a mix of talks and abstract presentations.
Registration
Registration includes access to the full scientific program, dedicated poster sessions, 2 receptions, catering during the meeting including dinners and a social activity, that will help you meet and network with peers. You might even be eligible for the discounted junior or member fee - further details are available on the registration page.
Ready to join us in Bulgaria? The Early fee is available until December 15, 23:59 CET.
Abstract submission
Abstract submission is an important part of this meeting and a selection of accepted abstracts will be presented as an integral part of the program. Submission is now closed.
Accepted abstracts also have the opportunity to present either orally or with a poster, for which active poster walks will be organized.
For more information and guidelines, please see the abstract submission page.
Venue
Hotel Rila Borovets
Borovets 2010
Bulgaria
Key dates
Sponsorship
There are various opportunities to support this meeting. For more information please send an email to sponsorship@ehaweb.org.
EBAH CME Accreditation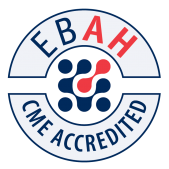 Continuing Medical Education (CME) is widely accepted to encourage individual practitioners to maintain and develop professional knowledge and skills keeping up-to-date with latest developments within the field. The meeting will be accredited by the EBAH system. Participants of this meeting are eligible to receive one Continuing Medical Education (CME) credit point for every hour of accredited activity from the EBAH system.