'Rare Cancers in all EU policies': Prof Elizabeth Macintyre expresses strong EHA support for the Rare Cancers Europe agenda
'Rare Cancers in all EU policies': Prof Elizabeth Macintyre expresses strong EHA support for the Rare Cancers Europe agenda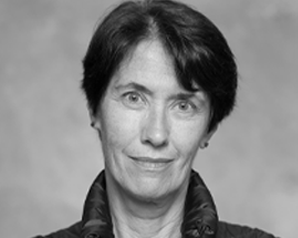 On September 28, EHA President Elizabeth Macintyre addressed an audience that included Members of the European Parliament, and officials of the European Commission and the European Medicines Agency, as well as members of the Rare Cancers Europe (RCE) partnership. Expressing support for the Call to Action launched by RCE, 'Rare Cancers in All Policies', Prof Macintyre highlighted the contribution and the commitment of hematologists to improving diagnostic and therapeutic options for patients with rare cancers.
The fight against cancer features prominently in recent EU initiatives such as the Europe's Beating Cancer Plan and Horizon Europe's Cancer Mission. However, insufficient attention is given to the specific challenges faced by the rare cancers community. These include limited or no access for patients to the appropriate diagnostics and therapies, lack of commercial feasibility or interest in developing new therapies and obstacles to conducting clinical trials.
In the EU, cancers are considered rare when their incidence is less than six per 100,000 people. With 650,000 new diagnoses annually and around 5.1 million patients in the EU, rare cancers are in fact not so rare. The 39 organizations (medical societies, patient and research organizations, healthcare and education providers, industry) that have joined forces in Rare Cancers Europe are therefore making an urgent appeal to the EU authorities to ensure that dedicated actions for the benefit of rare cancer patients are prioritized in all relevant EU policy and regulatory initiatives.
A strong advocate for concerted action, Prof Macintyre sees a role for EHA in helping to rally the hematology community around the European rare cancer agenda. As a pluridisciplinary society, it can connect with the national societies and patient organizations in hematology as well as with clinical and research networks, universities, hospitals, sibling European cancer societies (including via the BioMed Alliance and European Cancer Organisation) and the EU institutions.
A key part of Prof Macintyre's message was the need for complementary European diagnostic, therapeutic and research networks for rare cancers, in concertation with the European Reference Networks (ERNs) in rare cancers whose reinforcement, expansion and sustainability are important goals of the RCE collective. She reiterated EHA's strong support for EuroBloodNet, the ERN for rare hematological malignancies.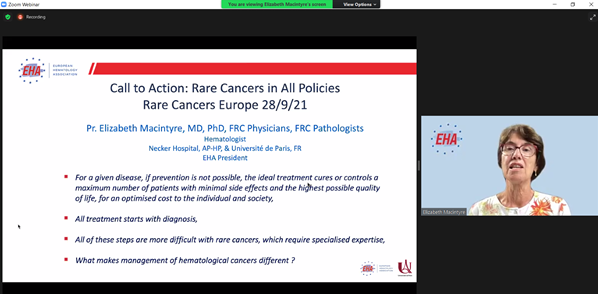 Last Updated on Wednesday 06 October 2021.