EHA-ASH Translational Research Training in Hematology
TRTH 2024 call is closed
What is Translational Research Training in Hematology?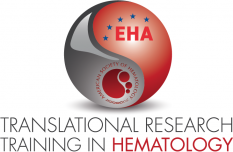 Translational Research Training in Hematology (TRTH) provides early-career researchers with a unique, year-long training and mentoring experience.
TRTH is a joint effort of the European Hematology Association (EHA) and the American Society of Hematology (ASH) and is focused on helping early-career hematological scientists build successful careers in hematological translational research.
The TRTH program begins with an intensive week-long course held in the spring. Mornings are dedicated to didactic and interactive sessions which further participants' understanding of translational research methodology and career development. Afternoons are devoted to small group sessions in which participants meet with their TRTH mentors, peers, and faculty to refine their individual research proposals. Informal presentations by leaders in hematology, designed to illustrate the variety of pathways to a successful career in hematology research, take place in the evenings.
TRTH SPONSORS
This program is made possible through the generous support of unrestricted grants from: