EHA-EMBL/EBI Computational Biology Training in Hematology
The CBTH 2024 call is now closed.
What is Computational Biology Training in
Hematology?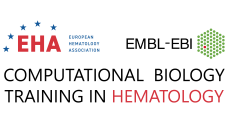 Computational Biology Training in Hematology (CBTH) provides early-career researchers aiming to specialize in computational and quantitative biology aspects of hematology with a unique, year-long training and mentoring experience by top-tier faculty.
CBTH is a joint effort of the European Hematology Association (EHA) and the European Molecular Biology Laboratory-European Bioinformatics Institute (EMBL-EBI) that aims to support the development of quantitative skills for hematology researchers through training and mentoring in computational biology.
The CBTH program will be organized with two multi-day workshops in a city in Europe and a follow up session at the EHA Congress.
CBTH SPONSORS
This program is made possible through the generous support of unrestricted grants from: