EHA-SWG Scientific Meeting on Red Cell and Iron Metabolism Defects: From Basic Science to Clinical C
EHA-SWG Scientific Meeting on Red Cell and Iron Metabolism Defects: From Basic Science to Clinical Case Application
Dates: October 12-14, 2023
Location: Budapest, Hungary
Chairs: A Taher & A Iolascon
Collaborating SWG: EHA Specialized Working Group on Red Cells and Iron

Registration
Online registration is open. Visit this page for more information and to register.
Target audience
The meeting is intended for hematologists, (biomedical) scientists, general practitioners, and pediatricians.
Program
The objective of this Meeting is to examine red cell and iron biology during the erythropoietic differentiation process. During the presentations and panels we will discuss the underlying machinery and mechanisms that allow for this enormous cell production and its alterations in causing red blood cell disorders. Furthermore we will outline the possibilities for diagnosis and treatment of both inherited and acquired conditions of anemias and cover different red cell disorders. The meeting will cover the following topics:
Thalassemias

Sickle Cell Disease

Diserythropoietic Anemias

Red Cell Enzyme Defects

Atypical Microcytic Anemias

Hereditary Hemochromatosis

Iron Metabolism

Paroxysmal Nocturnal Hemoglobinuria

Iron Deficiency/Iron Deficiency Anemia
Abstract & clinical case submission
Abstract & clinical case submission is an important part of this meeting. As a participant, you will have the opportunity to submit an abstract or clinical case for this meeting, and (if accepted) have the possibility to discuss it with the international faculty and your peers as an oral or poster presentation. The abstract submission closed on August 1, 2023.
Travel grants
Travel grants are only available for registrations with accepted abstracts, submitted during the regular abstract submission period. Travel grants are intended to support young investigators; therefore, applicants should be 36 years of age or younger and are reserved for authors from upper-middle, lower-middle, and lower-income countries. The application is now closed.
For further information, to submit your abstract and apply for a travel grant, click here.
Venue
Budapest Novotel City & Congress Center
Alkotás u. 63-67.
Budapest 1123
Hungary
Sponsorship
This meeting is supported by:
Premium Partner

Meeting Contributor

Unrestricted Grant


There are various opportunities to support this meeting. For more information please send an email to sponsorship@ehaweb.org.
EBAH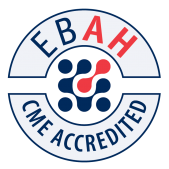 Continuing Medical Education (CME) is widely accepted to encourage individual practitioners to maintain and develop professional knowledge and skills keeping up-to-date with latest developments within the field. The meeting will be accredited by the EBAH system. Participants of this meeting are eligible to receive one Continuing Medical Education (CME) credit point for every hour of accredited activity from the EBAH system.

Interested in this meeting? Would you like to catch up on the latest update in this topic and more? Visit the campus to discover several educational contents covering Red cell and Iron disorders. Explore the courses listed below.