EHA-SWG Scientific Meeting on Systemic Risk of Thrombosis or Bleeding
Dates: November 22-24, 2019
Location: Madrid, Spain
Chairs: A Falanga, C Balduini
Organized by:
EHA & the EHA Scientific Working Group on Bleeding and Thrombosis and the EHA Scientific Working Group on Thrombocytopenia and platelet function disorders
Online registration for this meeting is now closed.
The EHA-SWG Scientific Meeting on Systemic Risk of Thrombosis or Bleeding is a three-day meeting dedicated to physicians who take care of patients with thrombotic or hemorrhagic risk. This meeting will teach participants how to recognize these patients, update them on treatments available for reducing these risks, and demonstrate how to weigh the benefits and risk of anti-hemorrhagic and anti-thrombotic therapies.
Below you can find key information and links to important details regarding registration and accommodation. There is also a wide array of sponsorship opportunities available for pharmaceutical companies.
Target audience
Hematologists, cardiologists, neurologists, pediatricians, internists, patient advocates and clinicians/researchers interested in pathogenesis, diagnosis and treatment of thrombo-hemorrhagic disorders.
Program
The scientific program covers basic science, pathogenesis, diagnosis and treatment of thrombosis and bleeding disorders, including gender-related hemostatic issues and thrombocytopenias. The participants are encouraged to be part of the program both through sessions specifically dedicated to their presentation of clinical cases and results of their research, and by interacting with the invited speakers during sessions and breaks.
This meeting will cover the following topics:
Venous thromboembolism
Biological markers to assess the thrombotic risk
Scoring for bleeding risk
Platelet threshold for anticoagulant treatments
Management of bleeding risk in patients with platelet defects
Bleeding risk of anticoagulation
Gender-related hemostatic disorders
Anticoagulant therapy
The full program can be found here.
Learning objectives
After attending this EHA-SWG Scientific Meeting, you should be able to:
identify the etiology and pathogenesis of thrombosis and bleeding tendency in each patient,
use appropriately clinical and laboratory investigations to evaluate the thrombotic and bleeding risk,
manage patients at risk of thrombosis and hemorrhage during everyday life and on the occasion of hemostatic challenges,
define how to stop bleeding once it occurs, and
consider the cost-benefit ratio in the choice of treatment.
Abstract submission
Abstract submission is an important part of EHA-SWG Scientific Meeting on Systemic Risk of Thrombosis or Bleeding. As a participant, you will have the opportunity to submit an abstract or clinical case for this meeting, and (if accepted) have the possibility to discuss it with the international faculty and peers.
A selection of abstracts and clinical cases will be eligible for acceptance during the meeting, the presentation format will be in the form of oral presentations or poster presentations. Presenting authors will receive a separate invitation.
Click here for more information.
Venue
The meeting will be held at the Meliá Avenida América:
Calle de Juan Ignacio Luca de Tena, 36
28027 Madrid, Spain
Key dates
Registration
Online registration now closed. Visit this page for more information.
Sponsorship
This meeting is supported by:
Meeting partner

Satellite Symposium organizer

There are various opportunities to support this meeting. For more information please send an email to sponsorship@ehaweb.org or check the sponsorship page.
EBAH CME Accreditation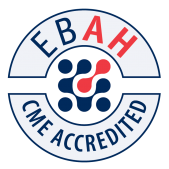 Continuing Medical Education (CME) is widely accepted as a means to encourage individual practitioners to maintain and develop professional knowledge and skills keeping up-to-date with latest developments within the field. The meeting will be accredited by the EBAH system. Participants of this meeting are eligible to receive one Continuing Medical Education (CME) credit point for every hour of accredited activity from the EBAH system.