EHA-EBMT 3rd European CAR T-Cell Meeting
The European Hematology Association (EHA) and the European Society for Blood and Marrow Transplantation (EBMT) are excited to announce the 3rd edition of the jointly organized European CAR T-cell Meeting. This well-established meeting will be held virtually, from February 4-6, 2021, ensuring everyone can safely attend and learn about the new developments in the CAR-T arena.
Dates: February 4-6, 2021
Chairs: H Einsele (EHA) & C Chabannon (EBMT)
The platform is now live. Click here to view!
This meeting will address a broad range of topics including basic, translational, and clinical research in the exciting field of CAR-T. The program will offer a special focus on research across Europe, the USA, and Asia, clinical management and regulatory aspects, and broadened perspectives by incorporating patient organizations, nurses, and data managers into the program.
Due to the varying and fluctuating travel registrations, as well as limitations placed on physical attendance, EHA and EBMT have decided to host this meeting virtually – because staying up-to-date, hearing the latest developments and discussing with experts and your peers shouldn't be impeded by not being able to meet physically!
The meeting program will thus be tailored to the new way of learning: Virtually! Stay tuned for more updates.
EHA Topics-in-Focus Immunotherapy

This meeting is part of the EHA Topics-in-Focus (TIF) program on Immunotherapy, aimed at raising awareness, providing education, furthering research, and building a network of experts to improve patient care. Further information, including a link to the brand-new website dedicated to Immunotherapy, please see our website.
Target audience
The target audience is hematologists, oncologists, physicians, nurses, data managers, supply chain managers and patient organization representatives.
Program
The program will cover various CAR T-Cell related topics, presented from perspectives in Europe, the USA and Asia. The program is now available online!
Abstract submission
Abstract submission is an important part of this meeting. As a participant, you will have the opportunity to submit an abstract for this meeting, and (if accepted) have the possibility to discuss it with the international faculty and your peers.
For more information and to submit an abstract, click here.
Registration
Registration for the meeting has closed. For more information, click here.
Sponsorship
This meeting is supported by:
Supreme level partners

Major level partner
There are various opportunities to support this educational course. For more information, please send an email to sponsorship@ehaweb.org to indicate your interest.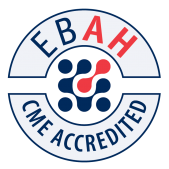 EBAH CME accreditation
This meeting is accredited by the European Board for Accreditation in Hematology (EBAH) CME. EBAH CME is the best way for hematologists to master the latest developments within the specialty of hematology. Staying abreast of these scientific developments and keeping in touch with the up-to-date views on clinical policy will enable you to raise your professional level, ultimately resulting in the best treatment for your patients.